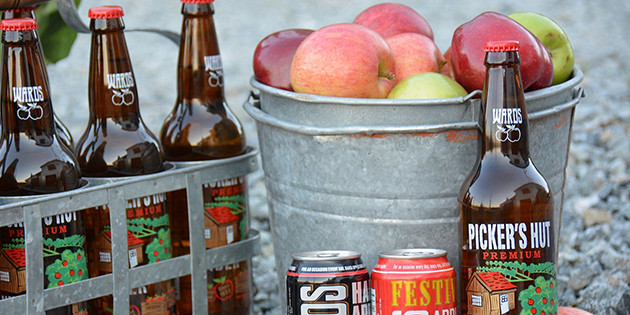 In celebration of BC Cider Week Wards Cider presents Sliders and Ciders. Throw on your plaid flannel and enjoy an afternoon at The View Winery in their historic apple packing house. You'll drool over the delicious pulled pork sliders paired with their signature hand crafted ciders.
Revel in some live music by Johnny vs. Johnny, a local guitar duo here in the Okanangan. As John Vesterinen electrifies on the electric guitar, John Paul Byrne astonishes on acoustic. The two toss lead vocals back and forth, providing an entertaining everyone can enjoy. The pair offers up some '70s greats like Gordon Lightfoot, Neil Diamond and The Beatles, rock, blues as well as newer artists like Jason Mraz and Train. Minister of Agriculture, Norm Letnick, will also make an appearance as a special guest and will be speaking at 1 pm.
Wine and cider tastings will be $2.00 with proceeds going to BC Women and Children's Hospital and BC Hospitality Foundation. Wards Cider is homegrown, handpicked and crafted in the sunny Okanagan Valley, so it's a treat not to be missed. For further information on this event, visit The View Winery's Sliders and Ciders or see the information below.
Date: October 24th, 2015
Time:12-4pm
Location: The View Winery #1-2287 Ward Road, Kelowna
Additional Costs: $10 for a pulled pork slider, local corn on the cob and a Wards Cider.