Free Health Assessment
Friday, October 17
8 am-2 pm
Kelowna Family Y at 375 Hartman Road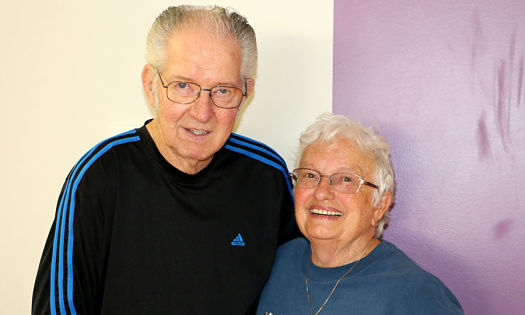 For Tom and Verna Woods, the Kelowna Family YMCA is a place where seniors can stay motivated and get the help they need to maintain their independence and health.
"The people, atmosphere, and camaraderie here make us want to come," says Verna during her regular Monday morning visit. "As you get older, you often have a lot of stress in your life–pains, operations and so on—being able to come here and work at my own speed allows me to build up the strength to help me keep going."
Verna, who suffered from a heart attack the night after her hip replacement surgery last February, is trying to re-build her strength so that she can undergo another surgery to fix her other hip. "The machines help, and I just take each day as they come," she says. "The Y is a community for us. We can't say enough about it."
Tom  also benefits from the Y, attending Yoga classes and participating in other fitness programs along with Verna every Monday and Friday. Tom suffers from early Alzheimer's but with the assistance and understanding he gets from YMCA supervisors and trainers he is able to exercise both his mind and his body.
Seniors have several program options at the YMCA to stay healthy and active and a good place to start is with a Health Assessment. The YMCA of Okanagan offers Seniors Health Assessments for free to the public approximately three times a year with the next session taking place on Friday, October 17, from 8 am-2 pm at the Kelowna Family Y.
This assessment takes approximately 45 minutes and includes a series of tests to assess your blood pressure, cardiovascular endurance, blood glucose levels, flexibility, strength agility and more.
Registration is required for this free Seniors Health Assessment as space is limited. Please contact the Kelowna Family YMCA Member Services team at 250-491-9622 to reserve your spot today.