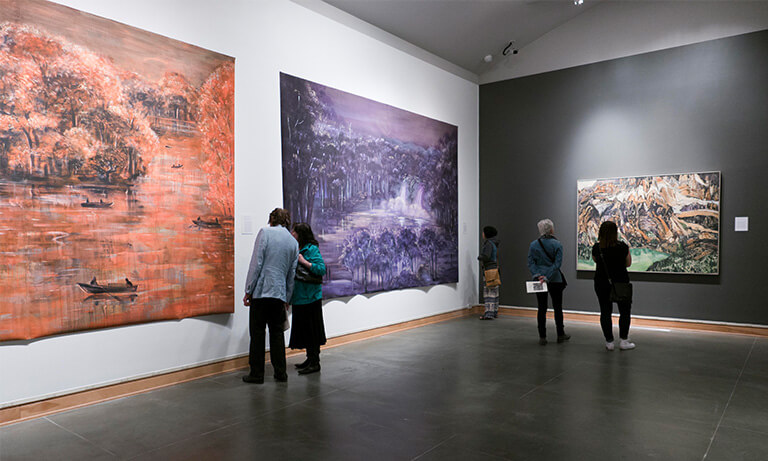 What is it about big things that fascinate us so much? Could this fascination for "going big" hold true for art as well? An exhibition at the Kelowna Art Gallery, entitled The Big Picture, gives visitors a chance to decide for themselves.
The Big Picture features fifteen works drawn from the Gallery's permanent collection, all chosen for their large size. To illustrate, a pair of works created by artist Wanda Koop dominate an entire gallery wall, each piece measuring 13 feet long by 9 feet tall.
Working big has its own history – whether in drawing, painting, printmaking, or sculpture – and historically was often driven by ambition, either artistic or personal. The context in which we can view this selection of large works is the post-World War II era of the last century, when modernist painting was increasing in size, and is sometimes referred to as "heroic".
The exhibition features works by David Alexander, Rose Braun, Pierre Coupey, Cathy Daley, Jane Everett, Wendy Hamlin, Wanda Koop, Vicky Marshall, Martin Pierce, Gary Pearson, Bryan Ryley, and Alan Wood. About half of the artists are from the Okanagan and the remainder are from other regions of Canada.
The Big Picture is on display until June 25.
For more information about current exhibitions or programs available, please visit the Kelowna Art Gallery online at www.kelownaartgallery.com or call 250-762-2226.