Valley votes for best businesses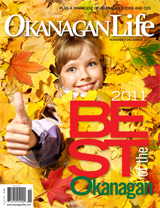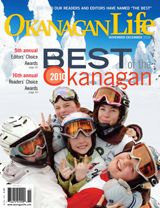 Valley residents from Salmon Arm to Osoyoos are weighing in on who will make the list for best business in the Okanagan Valley. From autobody shops to yoga studios, the Best of the Okanagan Awards are chosen annually by readers of Okanagan Life magazine. New in 2013, the search is on for the Most Unique Business in the Okanagan.
"A strong customer referral is so important to the ongoing successes of a business," says publisher Paul Byrne. "I've see many businesses proudly display the awards across their walls and in their marketing. They take so much pride in having customers vote them best, and really it's a mark of their excellence."
While the list includes popular categories like ladies wear, best jeweller and best shoes, new listings have popped up: best web design firm, snowboard shop and best place to taste wine.
"There's no doubt the Okanagan is the best place to have fun, and you'll find the awards offer plenty of categories for outdoor enthusiasts," adds Byrne. "We have best place for adrenaline rush, best place for family fun and, one of my favourites, best golf course."
The awards also honour excellence in the arts with best local writer, best local musician/group and best performing arts group.
Byrne expects strong competition in the home & décor and building categories. "When it comes to house and home, owners are passionate about the service they expect. This industry is driven by referrals." In addition to best renovator and best residential builder, readers can also vote for best commercial builder.
Byrne says voting has already surpassed last year's numbers when the magazine made the move to an online ballot. Voting is open until October 15.
Local and independently owned, Okanagan Life magazine has been telling the stories of the Valley's people and businesses for 25 years.