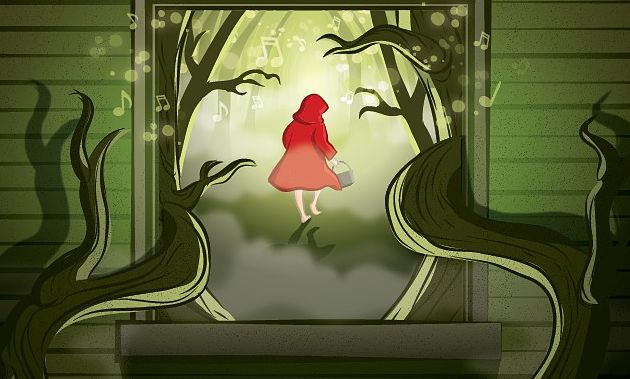 A new take on the classic story of Red Riding Hood will lead the 2014 season of Kelowna's Bumbershoot Children's Theatre Company this January. Tickets are still available for the Jan 24 to Jan 26 performances.
Taking the lead roles are two seasoned Kelowna adult performers, Gwen Plitt as Bridget, and a familiar mystery performer who is new to the Bumbershoot stage as Stephen. 
Created in the U.K. by playwright Mike Kenny and composer Julian Butler, the story unfolds during a sleepover at grandmother's house, but the actors and audience are soon magically transported into the forest. The all-ages production will follow the children who decide to pass the time at grandmother's house by acting out their favourite story with things found around the attic including clothes from the wardrobe. Soon what's real and what's imagined blur, and the children find themselves in the deep, dark woods with a wolf tracking them down.
Red Riding Hood is presented on Bumbershoot Theatre's own stage at #125- 1295 Cannery Lane in the heart of Kelowna's Arts District from Thursday through Saturday evenings at 6.30 pm and Saturday matinees at 2 pm. There will also be a Sunday afternoon matinee at 2pm on January 26. Tickets are available at the Bumbershoot Box Office at 125, 1295 Cannery Lane or by calling 778-478-0142.
Bumbershoot, which was launched in 2009, is a non-profit registered charitable theatre company dedicated to introducing Okanagan youth and children to the magic of the theatre.
In addition to its live theatre performances, the children's theatre company also offers a full selection of drama workshops and classes. Another activity is its residency program which is done in conjunction with participating Okanagan schools. The program offers a week long in-school program which immerses students in a drama workshop as part of the school's curriculum. After gaining first hand drama knowledge and experience the students host a performance for parents with the proceeds going to the school.
Full information on the new Bumbershoot season as well as its other activities can be found on their website:
www.bumbershoottheatre.com.