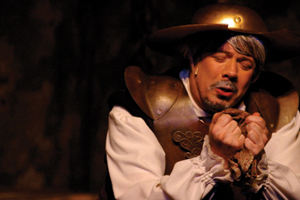 It's only coincidental that Kelowna Actors Studio will be putting on Disney's My Son Pinocchio as part of this season's offerings. Most people of a certain age can still sing at least two bars of An Actor's Life For Me from the original Pinocchio movie and, although that childhood fascination for treading…the boards may have faded from most of us, it continues to propel Kelowna Actors Studio (KAS) co-founder Randy Leslie on a career that has spanned almost 30 years.
Randy is the driving force behind Kelowna's only professional dinner-theatre troupe. He has spent the past decade producing, directing and acting in a string of musical and dramatic hits at the Ellis Street theatre.
The 47-year-old began his career in Toronto turning pro at the age of 20. In all, he has performed more than 60 roles ranging from Don Quixote to Max the Producer, and he can hoof it as well as act. Among his theatrical specialties are coaching improv comedy and voice, script writing, choreography and directing.
Randy never did finish theatre school. He'd already made a career working in the craft and performing in both the Big Smoke and Ottawa. But like a lot of highly talented people he felt the need to give something back and began training young performers and background people in the ways of live theatre.
Many of his students have gone on to study at prominent schools like The American Academy of Dramatic Arts in Los Angeles, the Julliard School in New York and Sheridan College in Toronto.
Here in Kelowna, KAS has established the Kelowna Actors Studio Foundation—a non-profit organization to promote and enhance education in the arts here and ultimately to build a nationally recognized theatre school in Kelowna's Cultural District.
The KAS facility covers 11,000 square feet including the 230-seat dinner theatre; training and rehearsal spaces for actors, singers and dancers; set construction and storage areas; a kitchen, licensed bar and office space. The company now trains more than 150 students per semester.
Another extension of KAS is the new Mandatory Expression Theatre Company. Although Kelowna patrons love musical theatre, Randy and KAS are adding a new dimension to their offerings with cutting-edge drama like Tony Kushner's 1993 Pulitzer play Angels In America, which deals with controversial gay themes.
During his public appearances, Randy rarely lets the opportunity pass to promote all branches of the arts in Kelowna and his energy and effort has not gone unnoticed. In 2009, the city honoured him with the prestigious Angel of the Arts Award.
How did the boy from Toronto's east end, end up in Kelowna?
After a hugely successful career in performance, production and theatre management, Randy left the St. Lawrence Centre after 13 years to head west as the executive director of the Rotary Centre for the Arts. With a year under his belt he realized he had enough of a feel for Kelowna and the type of audience here to try something he had always wanted to do.
"I could see the audience here loved musical theatre," he says. "I had this dream that I wanted to combine top quality productions with a solid educational program and when the possibility of acquiring this space opened up, I couldn't say no."
The result was the creation of Kelowna Actors Studio—now in its tenth season.—Bruce Kemp
Photos by Glenna Turnbull