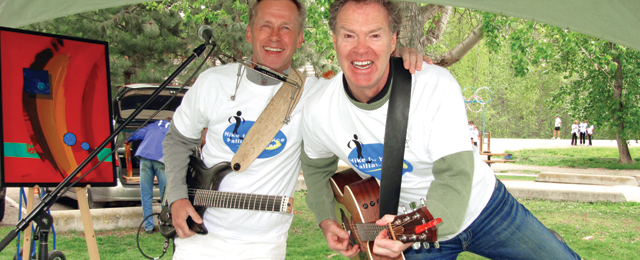 When Okanagan Life publisher John Paul Byrne expanded his passion from the printed word to music scores, it's no surprise that magazines were his focal point. In 1991, he took a walk just a few blocks from the magazine conference he was attending in New York to see his first Broadway musical (Les Misérables). He then set to work, composing one of his early songs, Power of the Printed Word, which has a mesmerizing rock beat powerful enough for centre stage.
Paul was determined to see his own musical Ink! on stage. He called on the mastery of local pianist Neville Bowman, who helped with the instrumentation and prepared charts for the 12-member cast. Then teaming up with Triptych Theatricals, Paul realized his dream when his 28-number production, which centres on the staff of Memphis Magazine, hit the stage in Vancouver in 2006.
The musical production behind him and his built-in audience of three children leaving home, Paul moved from songwriting to performing, teaming up with up with long-time performer, tennis coach and teacher, John Vesterinen, to form the duo Johnny vs. Johnny.
In his new partner Paul has found a close friend and perfect foil. With John on electric guitar and Paul on acoustic, the two toss lead vocals back and forth like volleys on the tennis court. Their camaraderie is always apparent and, no matter how intimate or large the gathering, audiences feel like guests at a house party.
"Paul is the consummate musician," says John. "He sings, he plays, he song writes, he does it all. When we got together, it was a perfect match. Vocally, his deep baritone pairs so well with my tenor and we have so much fun making music together."
Moving from the basement to the stage has been a journey eased for Paul by John's support. "Johnny has a wonderful stage presence and his musical spirit is exceptional," says Paul. "He has such a positive outlook and he makes being on stage so much fun and so enjoyable."
Paul also drew on his love of sports to make up for lack of stage experience. "I'm a competitor," he says. "I took the attitude I have in sport to my music and worked hard to get better."
The duo are also passionate community supporters and often lend their talents to local fundraisers, including the Kelowna General Hospital Foundation Annual Celebrity Tennis Classic, now in its 12th year. It's perfect for Johnny vs. Johnny as they showcase their prowess both on the tennis court and on the evening stage.
Paul has been close to music all his life. It was a mainstay at the Byrnes' Lethbridge home thanks to Paul's mother Helen, who taught both school and music. Now in her 90s, she still hums her way through each day. With lots of siblings, the household was busy and while music was always present, it took a back seat to sports. At 17 he took up the guitar and joined a band, but that was short-lived as his love of athletics won out.
Raising his own children, Paul found his music sidelined by the kids' sports and activities. Yet in quieter moments, he tucked away into a downstairs homemade studio and composed ballads for each of them.
Paul's most influential musical moment came in early 1964 when, as a very young boy, he watched the Beatles perform on the Ed Sullivan Show. As Beatlemania grew and the 70s exploded with popular music, he just soaked it up. If you catch him on stage today, you'll hear echoes in his voice of 70s greats like Gordon Lightfoot, Jim Croce and Neil Diamond.
You can catch Paul playing solo as well as performances by Johnny vs. Johnny at a variety of local venues. One good bet is Kelowna's Minstrel Café. This musical hot spot is known for its warm, modern decor, courtyard patio shaded by a super-tree, great menu (including tapas) and wine list, plus live entertainment five nights a week. In downtown Kelowna, another favourite venue is the Yellow House, with its intimate setting, premium menu and wine list, and live entertainment Friday and Saturday nights. —Yvonne Turgeon