Photo: Kelowna jazz single Anna Jacyszyn shows off her original oil painting.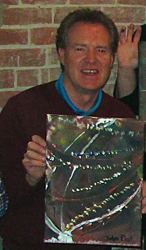 Some special members of our community created some very special artwork this fall - including OkanaganLife publisher Paul Byrne.
The artwork will be available at live auction on November 6 at the Rotary Centre for the Arts at 421 Cawston Ave. All proceeds going to Pathways Ability Society.  The event runs from 6:30 pm until 10 pm.
Pathways Abilities Society (formerly Kelowna and District Society for Community Living) has been serving adults with developmental disabilities in Kelowna and area since 1953. As those with diverse abilities  become adults, Pathways is a place to come to receive further assistance with life skills, employment, volunteerism and meaningful activity. Pathways serves over 150 individuals and their families to live productive and happy lives
Tickets on sale at 1729 Gordon Drive, Juice FM (title sponsor). Tickets are $25 each and include appetizers and one glass of wine.  There will be a door prize and live jazz by Griffin's Groove.