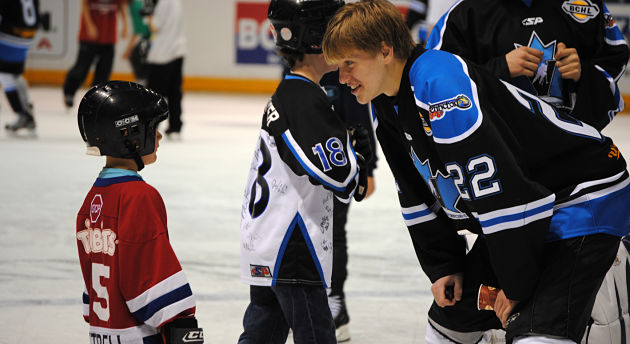 The Penticton Vees, in conjunction with Peter's Bros Construction are pleased to announce a new four-year ticketing partnership.
For the next four years, starting with this season, admission for single game tickets will be free for students aged 18 and under courtesy of Peter's Bros Construction. Admission for children aged 12-years and under will also be free as long as they're accompanied by an adult. Though Penticton Vees hockey tickets are free for students and children, they're still required to pick-up a game ticket at the Valley First Box Office.
"For the past 20 years I have worked in many different cities throughout North America and I must say I have never come across a group as generous as Peter's Bros Construction," says Fred Harbinson, VP, General Manager and head coach of the Vees. "This partnership will create a positive influence on the youth of Penticton and will help create an exciting environment each and every night."
Peter's Bros Construction is a privately owned paving contractor in the Okanagan with its head office located in Penticton. While based in the Okanagan, Peter's Bros Construction performs its quality work throughout the entire province of British Columbia and has been recognized by the Ministry of Highways with the first place award of Excellence in Paving. Peter's Bros Construction has been a great community partner in Penticton, as they're a major sponsor of PeachFest amongst other community initiatives.
"Our main goal is to work with the Vees in providing a positive entertainment option in a safe environment for our youth. We're a big supporter of not only the team but the SOEC as well, so we're very excited about this new partnership," says GM Joe Cuzzocrea.
The Vees home opener is Friday, October 3 against Salmon Arm. Single game ticket prices remain unchanged from last season, as adults are $13 and seniors are $11.
To alleviate pressure and long line-ups, the Vees will be implementing new game day walk-up ticket prices. On game days, adult and senior tickets will be raised by one dollar, making adult tickets $14 and senior tickets $12 each. Fans can purchase single game tickets throughout the week leading up to games at the Valley First Box Office for no additional charge.
Tickets are available in-person at the Valley First Box Office (at the SOEC) and at the Wine Country Visitor Centre or  over the phone at 1.877.763.2849.