...featuring Canucks, Flames, Oilers and Jets prospects
The Vancouver Canucks announced today that the City of Penticton will host the 2016 Young Stars Classic for the sixth year at the South Okanagan Events Centre in Penticton, from Friday, September 16 to Monday, September 19.
The four-team, round-robin tournament will feature prospects from the Calgary Flames, Edmonton Oilers, Winnipeg Jets, and Vancouver Canucks. The four participating teams also hold four of the top six selections at the 2016 NHL Entry Draft: Winnipeg - second overall, Edmonton - fourth overall, Vancouver - fifth overall, and Calgary - sixth overall. Tournament tickets and VIP packages will go on sale on Friday, July 8 at 10:00 a.m.
"We are very excited to once again hold the Young Stars Classic in beautiful Penticton, BC," said Trevor Linden, Canucks President of Hockey Operations. "The Young Stars Classic launches a new season and offers a great opportunity to watch NHL prospects develop in competitive games. We're grateful to our gracious hosts, The South Okanagan Events Centre and the city of Penticton for always making this a first class experience."
Six Canucks prospects that participated in the Young Stars Classic in September 2015 played in at least one NHL regular season game in 2015-16 including current roster players Ben Hutton and Jake Virtanen.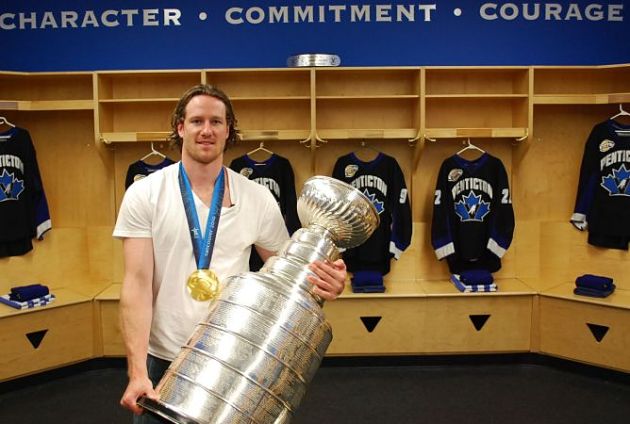 PHOTO:  Pentcton, home of the Vees, is no stranger to top NHL talent. Here hometown hero Duncan Keith drops in with the Stanley Cup.
"The hockey is astonishingly fast and intense. You get to witness players get their start and see firsthand hockey heroes of the past who are now part of the management or coaching. It truly is a must attend event for all hockey fans," says event chair and City of Penticton Mayor Andrew Jakubeit. "Now celebrating six years in Penticton, we welcome and appreciate the significant economic impact and exposure that having this NHL-caliber hockey brings to our community and region."
Once against this year the festivities will include a Canucks Town Hall Breakfast as well as Minor Hockey Day, which will include a Party on the Plaza event with games, food, music and entertainment as well as skills and development camps for BC minor hockey players.
Tournament ticket packages include all six games for $60.00. Tickets are available online at ValleyFirstTix.com, by phone at 1-877-763-2849, in person at the South Okanagan Events Centre Valley First Box Office.
Young Stars Classic Schedule
| | | | |
| --- | --- | --- | --- |
| GAME | TEAMS | DATE | TIME |
| Game 1 | Calgary vs. Winnipeg | Sept. 16 | 4:00 PM |
| Game 2 | Vancouver vs. Edmonton | Sept. 16 | 7:30 PM |
| Game 3 | Calgary vs. Edmonton | Sept. 17 | 7:30 PM |
| Game 4 | Vancouver vs. Winnipeg | Sept. 18 | 2:00 PM |
| Game 5 | Edmonton vs. Winnipeg | Sept. 19 | 11:30 AM |
| Game 6 | Vancouver vs. Calgary | Sept. 19 | 3:30 PM |
Schedule is subject to change