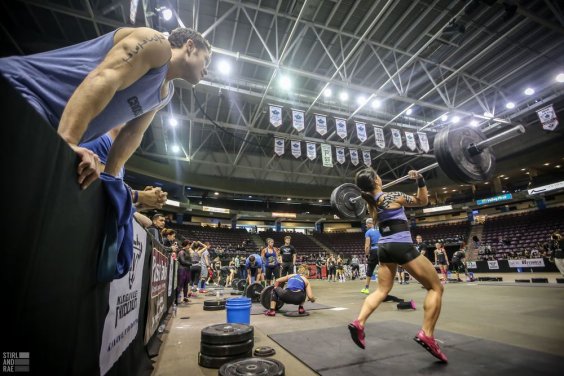 Fourth annual CrossFit-style competition will take place at the South Okanagan Events Centre
The fourth annual Okanagan Valley Throwdown returns to Penticton, January 28 and 29. The CrossFit-style event features more than 350 athletes competing in a variety of activities over the course of the weekend.
Spectators are invited to check out the exciting action and cheer on athletes at the South Okanagan Events Centre (SOEC). Partial proceeds from spectator ticket sales will go to support the Youth Outdoor Recreation Society and the South Okanagan Children's Charity.
"The Throwdown Series is now the largest event of its kind in Western Canada and is gaining attention on a national scale," says Lyndie Hill, owner of Hoodoo Adventures. "Our Penticton event has a wait list of more than 200 athletes who want to enter the competition, so if we can fill the SOEC with spectators, we will consider options for expanding the Penticton event in the future."
The Okanagan Valley Throwdown is programmed uniquely using movements that include weightlifting, powerlifting, medicine ball and kettlebell training, rowing, running, skipping, plyometrics, and gymnastics. While the event is geared towards fitness enthusiasts who already take part in CrossFit, either competitively or recreationally, the Throwdown appeals to athletes of all abilities, especially first time and recreational competitors. This event attracts individual men and women, recreational groups, competitive and masters (ages 40+) teams from across Western Canada and the US.
The Okanagan Valley Throwdown is co-presented by Hoodoo Adventures and Evolution Athletics, and fuelled by Muscle MLK Canada.
Okanagan Valley Throwdown Fuelled by Muscle MLK Canada
Saturday, January 28 and Sunday, January 29
8 am - 5 pm
South Okanagan Events Centre
853 Eckhardt Avenue West
Penticton, BC
Spectator Tickets: $8/person per day, $14/person weekend pass, $30/family (of four) day pass, $40/family (of four) weekend pass. Spectator ticket information online: throwdownseries.ca/ovt/ or in-person at the Valley First Ticket Office (located at the South Okanagan Events Centre).