The District of Lake Country and the Ministry of Transportation and Infrastructure have signed an agreement for the transfer of ownership of Pelmewash Parkway.
"Although we've had our share of challenging natural disasters and emergencies that have impacted many in our community lately," said Mayor James Baker, "everyone agrees that the Pelmewash Parkway corridor will be a significant public asset which will really define Lake Country. We appreciate the support from Norm Letnick in helping us to work through the transfer agreement process with the province."
It was four years ago when the new alignment of Highway 97 was opened. "Pelmewash Parkway" was chosen by Council from among the 160 unique names submitted for the old highway alignment along Wood Lake. In November 2013, Council endorsed a concept plan developed by a consulting team after a year of significant local public input. Finally, the long anticipated transfer of ownership of the roadway is happening in 2018.
"Council and staff have been working for quite a while to secure access to this corridor along Wood Lake and we are pleased that an agreement has now been signed and we can move on with the detail design phase," said Alberto De Feo, Chief Administrative Officer. "It will be great to see some of the community's ideas given some real definition. Recreation opportunities and active transportation concepts like bike paths and walkways were key themes that emerged in the public consultation. The Pelmewash Parkway amenity will be a very good complement to the section of Okanagan Rail Trail corridor through our community."
Through Official Community Plan surveying it was determined that one of the highest community issues was to increase access points to the waterfront for public use and parkland (84.4% of respondents).
"The initial work will involve roadway resurfacing and active transportation initiatives as the first phase of a multi-year project," said Matt Vader, Strategic & Support Services Manager.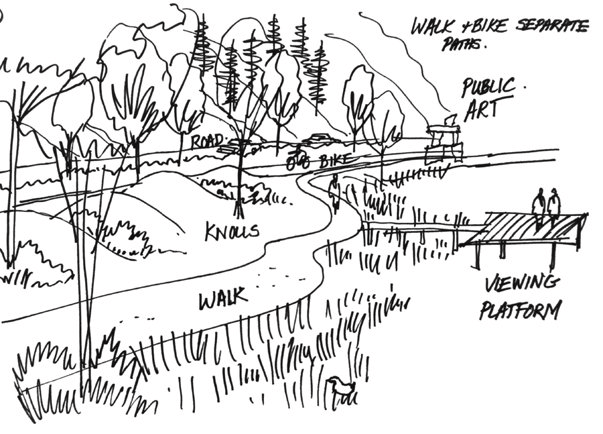 Plan for parkway
The conceptual plan calls to reduce the width of the road, retaining two-way traffic along Pelmewash Parkway and add a lakeside walkway and a separate bikeway between the walkway and the road. At selected pullouts recreation amenities will be added, such as picnic areas, swimming areas, boat launches for small boats, public parking, and boardwalk or viewing platforms.
The order-of magnitude cost estimate is in the range of 12 to 13 million dollars.
Photos courtesy of the District of Lake Country.