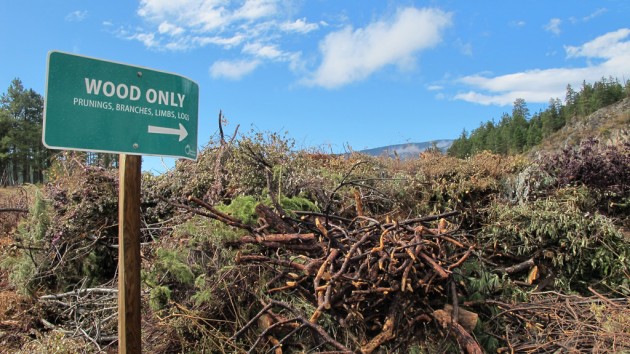 The District of Peachland will close its compost site on October 1, adhering to provincial environmental regulations that limit burning and saving $350,000 in new costs to municipal taxpayers.
"In the past we've been able to chip or burn material, but without strict monitoring at the gate, we've accumulated a mixture of materials that makes chipping cost-prohibitive," says Peachland Mayor Cindy Fortin. "We've been given clear notice from the Ministry of Environment that burning will no longer be permitted on the site."
Peachland Council explored a number of options for the site, but rejected the costs of full-time staffing and additional hauling and grinding costs that could reach up to $350,000 each year.
Peachland incurs annual operating costs of $50,000 to $60,000 for the site, which is managed under an operational certificate from the Ministry of Environment that limits the use of the property to the transfer and storage of woody debris. The facility had operated as an active landfill from 1970 until 1997.
In 2009, the Regional District of the Central Okanagan extended its curbside recycling program to Peachland residents. Yard waste is collected every other week from March to the end of November through the green bin program.
"Peachland residents are already paying for curbside yard waste recycling and for access to the Westside Transfer Station, where larger loads of residential yard waste can be dropped at no cost," says Fortin. "We're also encouraging residents to look at other recycling initiatives, such as adding a backyard compost bin and following the practice to leave grass clippings on the lawn when you mow."
For a small fee residents can add a second yard waste bin, or opt for a larger green bin for a fee of only $10 per year. Smaller prunings and branches up to 5 cm (2 in) in diameter and less than one metre (3 ft) long are permitted in the green bins.
Loads of residential yard waste up to 250 kg can be dropped off for free at the Westside Transfer Station. Located on Asquith Road in West Kelowna, the facility is open Friday, Saturday, Sunday and Monday from 7:30 a.m. to 4 p.m.
Peachland worked closely with local licensed yard maintenance companies leading up to the closure and will look to provide commercial access to the compost site on a user-pay fee basis for licensed landscaping businesses located within the municipality's boundaries. Other commercial businesses transporting wood debris from Peachland properties are required to use the Glenmore Landfill in Kelowna.
For more information on waste and recycling, see www.peachland.ca.