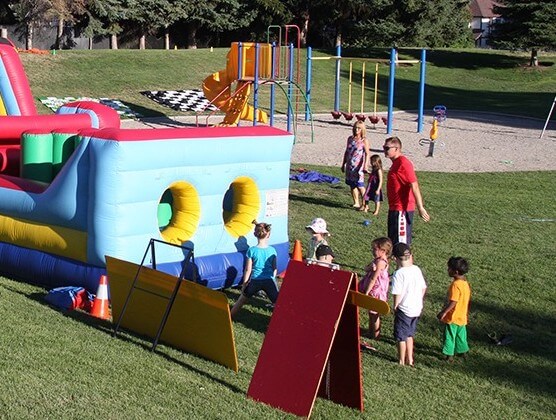 Kelowna's parks will soon be filled with bouncy castles, games and entertainment as the Park & Play program returns for another summer of free family fun.
From Monday, July 3, to Friday, August 25, the City's Park & Play crew will set up at local parks across the city from 5 to 8 p.m. with games and activities for all ages, weather permitting.
"This year we've selected 20 neighbourhood parks across the city to ensure that nobody has to travel too far to get in on the fun," says Mariko Siggers, Manager, Community & Neighbourhood Services. "Residents are also going to see some 'pop-up' Park & Play activities at new park locations on Wednesday mornings this summer."
Park & Play is completely free and is designed to encourage families to connect, get outside, explore new parks and stay active during the summer months. In partnership with Festivals Kelowna, ParksAlive! will also be on site at a number of Park & Play events this summer with live musical entertainment.
"Park and Play has become more than just play," says Siggers. "It's become a summer tradition where communities have an opportunity to come together. Neighbours can catch up and kids can meet new friends and have some fun."
Parents and guardians are reminded that they are responsible for the care and supervision of their children and are encouraged to use active transportation such as walking or biking to get to the events.
The full Park & Play schedule is available at kelowna.ca.