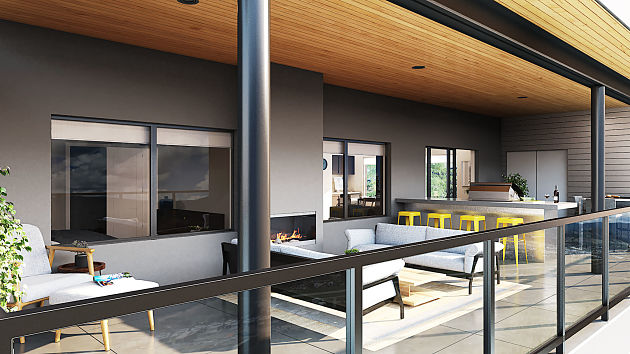 Skaha Hills in Penticton is one of the Valley's hottest development property with its successful launch of phase III, The Vistas, selling $12 million in one day.
In a limited release, two terraced rancher buildings with 12 homes each were launched, with both selling out completely.
"An opportunity to have unobstructed views of Skaha Lake, on the hill for less than $500,000 is rare, and we thought people would like this design. The terraced ranchers are unique and highlight what buyers are looking for," says Curt Jansen, Skaha Hills' vice-president of sales and marketing. "The demand was there and the success of this innovative home design has exceeded our expectations."
The Vistas feature terraced rancher villas built in the hillside vineyards with panoramic views of the Okanagan. The first 24 homes in phase three were sold on the first day of the Phase Three launch in July. More of the terraced rancher style buildings will be released within the year. At full build out, Phase III totals $48 million.
The unique concept  combines the best traits of a condo, a townhome and a rancher style home into one concept. These large, luxury villas offer the low maintenance of a condo, the functionality of a townhome and enjoyable, private outdoor space more typical of a single-family home. The terraced rancher style features more than 500 square feet of private outdoor living space to complement the views of the lakes and vineyards.
The terraced ranchers offer the convenience of a private garage. Having a personal garage enables storage of bikes, boats, and other toys. Whether it is a recreational property or a year round residence there is plenty of parking and storage.
Play Winery & Bistro, a $5.2 million hillside winery that opened earlier this month, is quickly becoming the go to place to wine and dine, while also functioning as a beautiful architectural entrance feature to the Skaha Hills community.
The success of Skaha Hills and PLAY winery is a credit to the Penticton Indian Band's long-term vision to stimulate economic growth for the region through strategic partnerships with local businesses and the City of Penticton. "We're dedicated to growing the economy and providing jobs in the South Okanagan. We're thrilled to be part of this vibrant economy, Penticton is a sought after destination and creating jobs attracts people and that's a huge spinoff for many local businesses," says Chief Jonathan Kruger of the Penticton Indian Band.
According to the Okanagan Real Estate Board, residential sales in the Okanagan continue to be boom, with sales of 1263 units in June, up 38 per cent from last year's reports.
"We are thrilled about the success of Skaha Hills, as this is a great example of how a partnership between local developers, businesses and the Penticton Indian Band can work together to help strengthen our community's economic development," says Andrew Jakubeit, Mayor of Penticton.
Interested parties should register at www.skahahills.com.