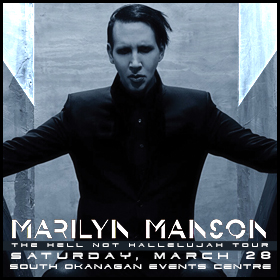 After more than 20 years leaving audiences in shock and awe, Marilyn Manson is coming to the Okanagan on March 28 for the first time ever to leave his mark on the South Okanagan Events Centre in Penticton.
Marilyn Manson is best known for the band's songs and albums released in the 1990s, such as 1996's Antichrist Superstar and 1998's Mechanical Animals. In the US alone, three of the band's albums have been awarded platinum and three more went gold, and the band has had seven releases debut in the top ten, including two number-one albums. Manson has been ranked number 44 in the Top 100 Heavy Metal Vocalists by Hit Parader, and has been nominated for four Grammy Awards.
Tickets for Marilyn Manson at the South Okanagan Events Centre (SOEC) are $29 and $55. Tickets go on sale to the general public on Friday, December 19 at 10:00 a.m.
Tickets can be purchased at www.ValleyFirstTix.com, by telephone at 1.877.SOEC.TIX (763.2849) or in person at the Valley First Box Office (at the SOEC) and Wine Country Visitor Centre.