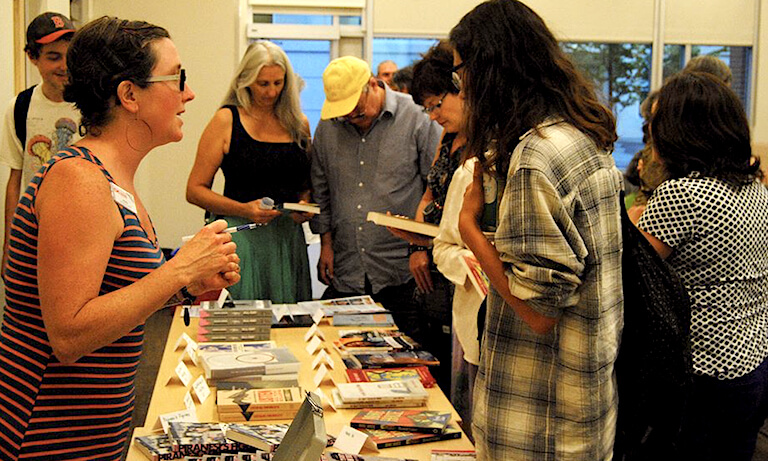 There's a novelist who's written a bestseller about Daniel Boone, a non-fiction writer who voyages to Antarctica, an award-winning playwright whose work is being staged at this moment in Saskatchewan, and a poet whose name is more or less synonymous with creative writing in the Okanagan… the lineup of "big and local" names hosting workshops at the upcoming second annual Spoke Literary Festival means Okanagan writers don't have to go far to learn from some of the best in Can Lit.
"You don't have to go to a big centre to get a really high quality writing workshop experience," says Spoke Literary Festival organizer Kerry Gilbert, an Okanagan College English professor who helped plan last year's inaugural event along with colleagues Hannah Calder and Michelle Doege.
The two-day event was such a success, they were able to build on it and draw writers whose workshops would be sought after at a major writing festival.
"Everyone is a professional writer who has experience in the publishing industry, and so it doesn't matter what level you're at in your writing career, there's something for you to learn and be inspired by," says Gilbert, adding workshops cover all literary genres, from poetry and fiction to non-fiction and playwriting, as well as other elements of the writing life.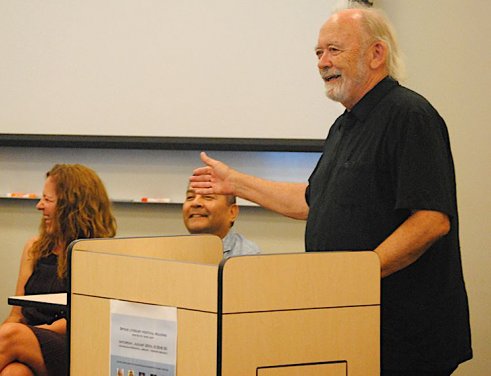 The 2017 Spoke Festival, being held Aug. 11-13 in Vernon, BC, features these workshops:
Alix Hawley—Pulling out the Plums: Using Research in Fiction
Jay Ruzesky—True Stories, Well Told
Corinna Chong—Making a Scene: Structure and Transitions in Short Stories
Heidi Garnett—Writing as Dream Work
Mike Poirier—The Structure of Writing a Play
Melanie Murray—Unlocking the Vault of Memory
Laisha Rosnau—Narrative Therapy
John Lent—Phrasing in Contemporary Poetry
The festival weekend kicks off with a writing circle led by Vernon poet Michelle Doege at the Caetani Cultural Centre, and Saturday evening features a reading by all workshop writers, which is hosted by poet extraordinaire and UBC Okanagan professor emeritus Sharon Thesen.
"Growing a strong writing community is a big focus for this festival," says Calder. "In addition to the workshops, the evening events are a chance to make those connections and pick writers' brains. The work of writing can be quite isolating, but attending readings and events like this, that's part of being a writer."
Fortunately for the festival and both emerging and experienced creative writers, the Okanagan has no shortage of talent to learn from and network with. Last year's festival drew participants from across the valley and beyond, and organizers are hoping even more writers will participate this year.
"We really want to put Vernon on the map as a literary community," says Gilbert. "That's what we want to foster and create as a long-term goal."
The Spoke Literary Festival takes place Aug. 11-13 at various locations in Vernon, BC. A weekend pass, which includes four writing workshops and two literary/social gatherings, is $175 and can be purchased by following a link from the Spoke Festival website at www.spokefestival.com. A student scholarship is available and all workshops and events are wheelchair accessible.