Forget the headaches of foreign travel; relax and get away from it all right here in the Okanagan
When family commitments sidelined all hope of a warm southern getaway, I didn't despair — though that great honkin' snowstorm prompted a tiny twinge of jealousy for all my absent neighbours. Still, I figured if thousands of people travel to my home patch for their vacations every year, surely I could come up with a suitable break right here in the Okanagan.
Maybe in the summer, you counter, but if you're not into skiing or boarding, what are you going to do here in the winter?
Well, let's start with those winter options. A few years ago, I was writing content for the Tourism BC website and had the opportunity to spend a few days at each of the Valley's major mountain resorts. Although I haven't skied for eons and never developed enough of a death wish to try boarding, the range of fun stuff to do truly astounded me.
I found myself staying in first class accommodations with amenities like a cozy fireplace indoors and a steaming hot tub on my private terrace. No charge for the spectacular winter landscape. Since I'm an army that travels on its stomach, I was relieved to find great dining options far beyond the soup and burger fare I remembered so well from my ski-up cafeteria days. In fact, I carved into one of the best steak dinners of my life in an Okanagan mountain restaurant and didn't have to think twice about polishing off the excellent bottle of wine because my suite was just steps from the eatery.
Unencumbered by awkward equipment and able to bend my ankles (thus avoiding the peg-leg walk), I was able to stroll around the snowy villages, browsing in shops and people watching from a sunny seat in the square with a hot cappuccino. If I hadn't been enjoying the lazing so much, I could have rented skates or taken in some high-speed thrills on the tubes. Instead I opted for a gentle snowshoe hike through the silent forest, a spa treatment, and a sleigh ride to a secluded cabin for yet another memorable dinner.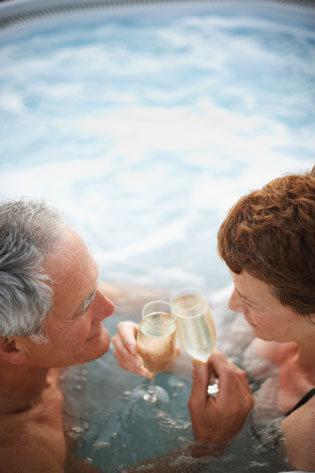 No margaritas or beach time, just a great escape — and our mountain resorts aren't the Valley's only winter escape. Not long ago my husband treated me to three days at a premier Okanagan resort. For a fraction of the high season rate, we luxuriated on million thread-count sheets, pampered ourselves with breakfast in bed overlooking one of the region's signature views, and paid no attention to how many crumbs we dropped. Someone else would return our room to pristine elegance while we took a walk, read by the pool or indulged in a couples massage. Again, we could order that second bottle of wine to pair perfectly with dinner prepared by a top Okanagan chef.
It felt like being in another dimension just an hour's drive from home: no airport shuttles, no strip searches, no weather delays or timeshare hawkers. Hmmm, what's not to love?
So looking for this year's getaway, I began combing websites and mined a mother lode of terrific romance, spa and casino packages. Local options include welcome gifts like snack baskets, wine and chocolate-covered strawberries; meal packages may include breakfast in bed and vouchers for dinner in the hotel dining room ranging from $50 to $100; special treats like champagne and chocolate fondue in your room; and credit for spa treatments and even casino coupons.
Top photo courtesy of Big White Ski Resort.
[downloads ids="127457″ full_content="yes" columns="1″ thumbnails="false"]
Best of the Okanagan
For more Okanagan getaways, see our readers' choice awards for Best Romantic Weekend Getaways.