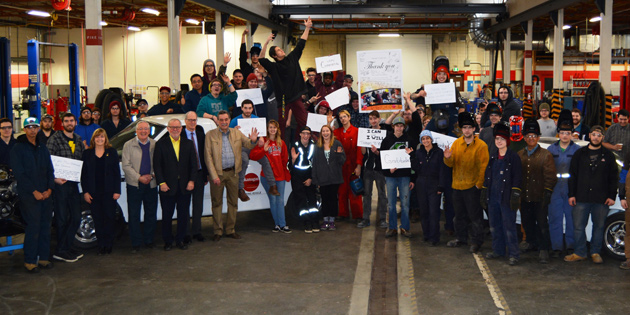 A major gift from The Joyce Foundation will soon open doors to education and help make dreams a reality for scores of current and future students at Okanagan College.
The $250,000 donation will be used to create entrance bursaries and augment existing financial aid for students in the College's Trades and Apprenticeship programs.
"This gift represents a tremendous investment in the future of many students in our region," says Okanagan College's President Jim Hamilton. "We are very grateful to The Joyce Foundation for enhancing our efforts to make trades training accessible for a diverse array of learners.
"This support is very timely when you consider that B.C. will need 160,000 new tradespeople over the next decade, including more than 10,000 in the Okanagan alone."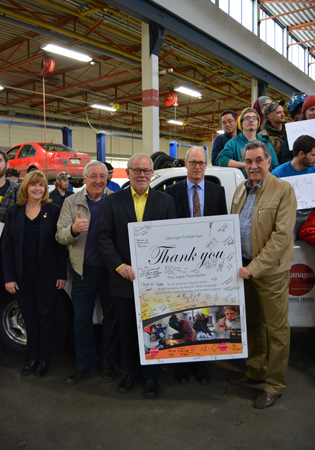 The $250,000 cheque is one of the largest donations ever received by Okanagan College for bursaries and student support.
At least $50,000 in entrance bursaries for students demonstrating financial need – 10 awards valued at $5,000 each – will be made available beginning in January. Additional entrance bursaries and funding for literacy and numeracy tutoring for trades students will be made available throughout 2016 and 2017.
"Education is key in opening new pathways to success. The Joyce Foundation is very pleased to be part of that process at Okanagan College," said Ron Joyce, founder of The Joyce Foundation and well-known Canadian entrepreneur.
The Joyce Foundation's primary focus is to provide access to education for children and youth with significant financial need or who are facing other socio-economic barriers to success. This gift was made available by Ron Joyce with the support of the Foundation's Board of Trustees, including Grant Joyce, Steven Joyce, Hon. Ed Lumley, Rob MacIsaac, Aileen O'Rafferty, Michele Thornley, and David Wagstaff.
"We are very excited to see young people use these entrance awards as a catalyst for change in their lives," says Kathy Butler, Executive Director of the Okanagan College Foundation. "And for our existing students in need of support, the impact will be just as profound – for some, it can mean the difference between staying in school or not."
Following today's official announcement of the donation, trades students, instructors and Okanagan College employees at the Kelowna campus gathered together to voice their gratitude to the Joyce Foundation.
"This is an amazing contribution for students," said Spencer LaPointe, a student in the Automotive Service Technician Foundation program. "Thank you to The Joyce Foundation for building on the foundation of support available to us."
Increasing access to trades training remains a priority for Okanagan College, which is B.C.'s second largest trades training institution. The 12-week Gateway to Trades program provides mentorship opportunities to high school students and students at risk. Some of the Joyce Foundation funding will assist students transitioning from the Gateway program to an Apprenticeship or Foundation (pre-Apprenticeship) program.
The Joyce Foundation's donation will count towards the Okanagan College Foundation's $2-million goal for student and program support as part of the overall $7-million Bright Horizons, Building for Skills fundraising campaign in support of the $33-million renovation and expansion of Trades Training facilities at the Kelowna Campus.
More information about the campaign is available at www.okanagan.bc.ca/campaign.