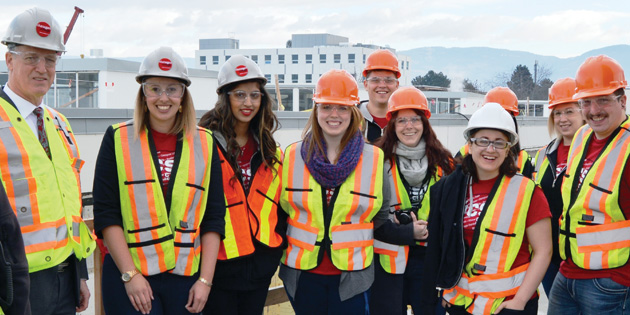 When Okanagan College announced plans to renovate and expand its trades training complex—a $33-million project—with the goal of creating one of the most sustainable post-secondary education facilities in North America, the College knew that support from the community would be crucial.
The Okanagan College Foundation launched the Bright Horizons, Building for Skills Campaign in October 2014 to help raise the $7 million ($5 million for capital costs, plus another $2 million for equipment and program support) needed to top up the provincial government's commitment of $28 million.
The response to the campaign in its early stages has been overwhelming, says Okanagan College Foundation president, Alf Kempf.
"We're only a few months into the campaign but so far the support we've seen from the community has been remarkable," explains Kempf. "From big organizations to families, it's a true cross-section of our community, and we think that shows the breadth of support there is for Okanagan College."
"It also shows that our community understands and appreciates the value of trades and the role tradespeople play in our economy," adds Kempf.
As the new three-storey trades complex tower takes shape along KLO road, donors have shared messages of encouragement, support, and excitement about what the building will mean for the future of Okanagan College, its students, and for the community as a whole.
"Our goal is to help the College build a foundation for future growth," explains Barry Carter, whose family has donated to enhance study space in the new complex. "Getting people into trades is perhaps more important now than ever before."
"The best possible trades training will only further promote the apprentice's future, opportunities for local business and ultimately the province of British Columbia," says Jason McCormick, vice-president – operations and partner of Westwood Electric; the company's donation will help power up a new electrical controls lab.
"I believe that people who have done well in this region should give back," says Barry Lapointe, owner of Kelowna Flightcraft, who announced a $500,000 donation to the campaign in December. "And we feel strongly about supporting post-secondary education."
"Industry support, from people like Barry, from the automotive sector, from companies like Westwood Electric sends a message to would-be tradespeople that validates their career choices," explains Bright Horizons, Building for Skills campaign chair Dennis Gabelhouse.
What began as a construction project has become one of the most important community-building experiences in Okanagan College's 51-year history, says Okanagan College president Jim Hamilton.
"This new facility will provide our students with the very best; it will be a cutting-edge environment that matches the quality of instruction students are receiving," explains Hamilton. "But even more importantly, it will unite them. Our students will have a facility that they can take pride in because they helped to build it."
When it announced its $100,000 donation, the Okanagan College Students' Union acknowledged that they were both prompted by the community support they had seen and the hope that their contribution would spark additional support from others.
"When the opportunity arose for us to play a part in supporting the rejuvenation of the trades training complex here in Kelowna, we wanted to show in a bold way just how important we feel it is for students to have a learning environment that is ahead of the curve, vibrant, and that reflects Okanagan College's commitment to sustainability," explains Grisch.
"We are very proud and appreciative of the fact that our students have chosen to invest in the future of their college," says Hamilton. "The fact that we have such strong support from inside the college and from the community, we believe, is a reflection of the way in which Okanagan College is plugged into and works with the community."
"We appreciate the community's support as we work to address the province-wide skills gap projected in trades, and train the young apprentices that will play a key role in our regional and provincial economy."
The Okanagan College Foundation is inviting the community to learn more about the project and support the Bright Horizons, Building for Skills Campaign by visiting www.okanagan.bc.ca/campaign.