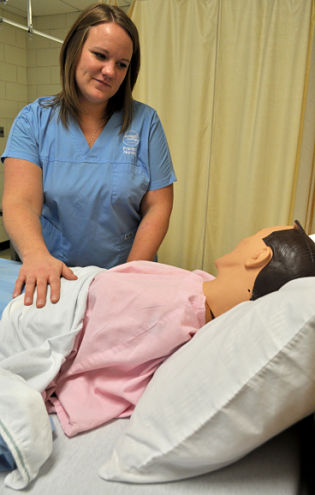 More than 100 Okanagan College students attending the Kelowna campus will have smiles on their faces and more money in their pockets this week when awards totaling $162,700 are handed out from the Okanagan College Foundation.
The annual awards reception will  see 134 students receive a total of 173 awards , which takes place November 21 at 7 pm at the Kelowna campus.
"Each one of these students is very deserving of these awards, and awards like this encourage students to do their best in their studies. They are role models for many other students on campus," said Regional Dean Heather Schneider.
Practical Nursing student Jenny Monaghan, 29, will be among those receiving an award – the second time she's done so.
"This makes a huge difference to me and my family," says Jenny, who is receiving the Gorman Bros. Lumber and the Rotary Club of Kelowna Vocational Award for Nursing, worth $5,000. Last year she received the Ernest and Irene Dayton LPN Tuition Bursary, designed to assist students in financial need.
"This year's award is helping with the added expense of childcare for my six and seven year old," says Jenny. "I received a student loan, but that just covered my tuition. This means my husband and I are not stressing about money, on top of school, and taking care of our family. Receiving an award like this really means a lot."
Over the years, numerous organizations and individuals have established memorial awards, scholarships, and bursaries, including groups like the Real Estate Foundation, Applied Science Technologists & Technicians of BC and the TD Bank Financial Group.
"This awards night means a lot to students, but it is also significant for our donors who appreciate a chance to meet the recipients and see for themselves how donating to the Foundation has helped power the College's promise to transform lives," says Kathy Butler, Executive Director of the Okanagan College Foundation.
The Kelowna awards night is just one of four awards receptions held at each of the campuses. Awards given out at these receptions represent a portion of the total number of awards granted each year to deserving Okanagan College students.
In the 2012-13 fiscal year the Okanagan College Foundation gave out $676,800 in scholarships and bursaries.