Veteran players Shea Weber from Sicamous and Duncan Keith from Penticton join the 25-player roster announced to represent Canada at the 2014 Olympic Winter Games, which take place Feb. 7-23 in Sochi, Russia.
Duncan Keith made his Olympic debut at Vancouver 2010, helping Canada capture the gold medal. Keith recorded six assists, but his 145 minutes and ten seconds of ice time in seven games led the Canadian team. Keith plays with the Chicago Blackhawks who won the Stanley Cup in 2013 and 2010.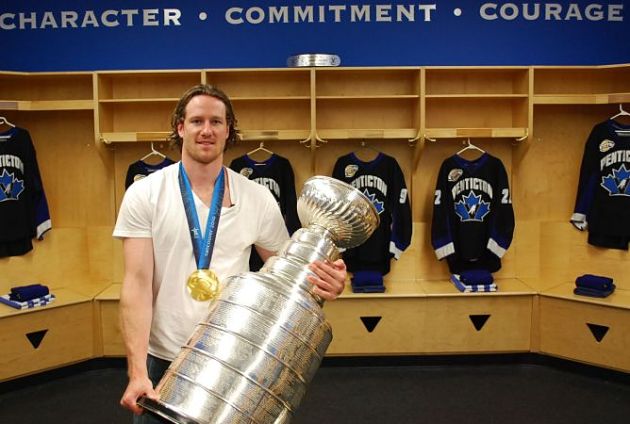 Shea Weber has represented Canada four times internationally, most recently at the Vancouver 2010 Olympic Winter Games where he helped the team win gold. Weber was second among defencemen in scoring with two goals and four assists and was named to the media all-star team.
Weber was a member of the Canadian team that won gold at the 2005 IIHF World Junior Championship. In 2007 he played at his first IIHF World Championship, again helping Canada to gold. He went on to win silver at the 2009 IIHF World Championship where his four goals and eight assists led all defencemen in scoring. He was named Best Defencemen and a media all-star.
Rookies this year include Jamie Benn, former Kelowna Rockets forward, from Victoria, who plays with the Dallas Stars. Jamie Benn first wore the maple leaf internationally as a member of the team that won gold on home ice in Ottawa at the 2009 IIHF World Junior Championship. He went on to play his NHL rookie season in 2009-10.
Team Canada at Sochi 2014 will feature 10 Stanley Cup champions. The three Chicago Blackhawks players on Team Canada are the only ones with more than one Cup each.
Two-time Stanley Cup champions: Duncan Keith, Patrick Sharp, Jonathan Toews
One-time Stanley Cup champions: Patrice Bergeron, Jeff Carter, Sidney Crosby, Drew Doughty, Ryan Getzlaf, Chris Kunitz, Corey Perry
Two Vancouver Canucks were named to the roster: goaltender Roberto Luongo and defenceman Dan Hamhuis from Smithers, B.C.
Ken Holland of Vernon and GM of the Detroit Red Wings will join the management team for Team Canada.
The men's Olympic hockey tournament begins Wednesday, Feb. 12, with Canada's first game on Thursday, Feb. 13 against Norway. The tournament culminates with the gold medal game on Feb. 23. In the Olympic preliminary round, Canada also faces off against Austria on Friday, Feb. 14 and Finland on Sunday, Feb. 16. All of these games take place at the Bolshoy Ice Dome in Sochi.
For more information on Canada's Men's Olympic Team,  visit www.hockeycanada.ca, or follow along through social media at www.facebook.com/hockeycanada, @hockeycanada, and @hc_men.