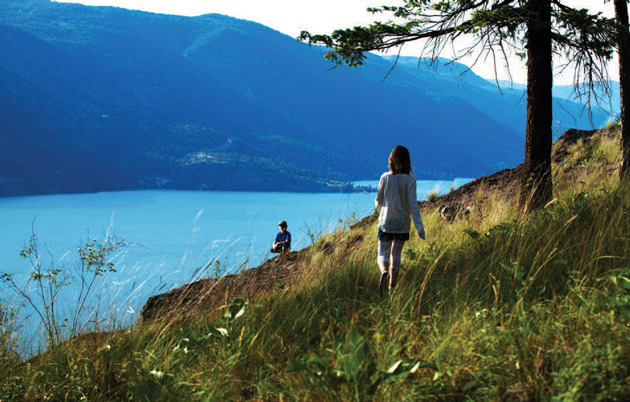 Funding rewards UBC Okanagan's talented visual artists for courage and insight
Expressing one's creativity may be its own reward, but one fortunate visual arts student at UBC Okanagan will now receive added encouragement thanks to the support of the Blenk family, the local developers of Wilden.
The Wilden Creativity Award will go to a graduating student—Bachelor of Fine Arts or Master of Fine Arts—in UBC Okanagan's Faculty of Creative and Critical Studies (FCCS) Visual Arts program whose work reflects a high level of expertise and accomplishment. The award includes $2,500 and an exhibition at the Wilden Presentation Centre at 132 Sky Court, Kelowna.
Wilden director and co-creator of the award, Karin Eger-Blenk says the courage of artists who break out of established patterns is something that needs to be supported.
"We wanted to recognize the creative minds and talents of emerging Okanagan artists, individuals who display the courage, originality, and passion to break out of established patterns of seeing, who offer new and insightful perspectives on the world," says Eger-Blenk. "This courage is what's needed to bring about positive change."
FCCS announced the creation of the Wilden Creativity Award at its annual "Art on the Line" gala and fundraiser in February. The recipient, and two finalists, will be named at the students' graduation gala on April 26.
"We are immensely grateful to Wilden and the Blenk family for this wonderful award," says Ashok Mathur, Head of Creative Studies in the FCCS. "There are so few of these types of awards for our students, and this will be the largest. It rewards talented emerging artists for perseverance in their artistic endeavours and commitment to the development of their artistic talent, while being an empowering gesture of support as they launch their artistic careers."
The Wilden Creativity Award is among the latest contributions to UBC's start an evolution campaign, culminating this year, which is raising funds for scholarships, research, and spaces. UBC Okanagan has surpassed the $95-million mark on the way toward its goal of raising $100 million and doubling engagement with its alumni.
Wilden is the largest master-planned community in the Okanagan, just 10 minutes from downtown Kelowna and 15 minutes from the UBC campus. The developer dedicated more than half of the land to be a natural park and for wildlife. A strong focus lies on the visual design of homes and neighbourhoods.