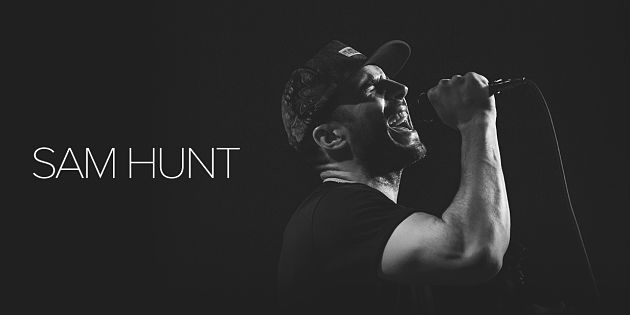 For those ready to sing in front of thousands of festival fans this July, Merritt Rockin' River Fest organizers have the ultimate opportunity to offer them – a chance to open for their headliner Sam Hunt.
"There is no question that Sam Hunt is a huge draw for our show this year," says president and founder Kenny Hess. "So it was just a natural fit to offer aspiring artists this once-in-a-lifetime opportunity."
From April 15 until June 15, eight entertainment venues throughout B.C. will be featuring the Road to Rockin' River Talent Search contest. During that time period, the contest will run every week and for a fee of $20, participants can pre-register for their location choice on the website. Drop-ins, who will be asked to register at the venue, are allowed as well.
Participants can sing either cover tunes or originals but contest organizers recommend they sing to tracks or instruments during the competition.
Although the majority of the selected venues only allow 19 years or older guests, Finnegan's Pub in Abbotsford allows minors and Hess says if a minor won this contest that would be just fine with him.
"We just care about fresh talent and want to give them every chance to shine. Age is never a consideration," says Hess.
List of Road to Rockin' River Talent Contest Venues:
ANAVETS Dominion Command (Army Navy Veterans Club #305) – Chilliwack
Barley Mill Brew Pub & Bistro – Penticton
Finnegan's Pub – Abbotsford
Off The Beat Pub and Lounge – Salmon Arm
OK Corral and Cabaret – Kelowna
Rock'n Firkin' Pub – Kamloops
Roosters – Pitt Meadows
Treasure Cove Casino – Prince George, BC
CMT Artist of the Year winner Sam Hunt will be playing at the festival Saturday, July 30. The Georgia-bred guitarist, pianist and songwriter, who is known for his gifted athletic abilities, is taking North America by storm with his Leave the Light On, House Party and Take Your Time singles.
One winner from each venue will be picked to compete at the contest finals to be held on Canada Day in Mission. The announcement would be made that day at the celebration.
The Merritt Rockin' River Fest features acres of camping facilities located within the grounds of what is arguably the premier outdoor music festival site in the country. This fest, which is all about living life in the moment and where everyone is a friend, is held over four days (July 28-31, 2016) and features three stages and more than 20 artists performing throughout the event. Some of this year's artists include: Dean Brody, John Michael Montgomery, High Valley, The Road Hammers, Brent Lee, Small Town Pistols, Bobby Wills and Dakota Pearl.
For tickets to the festival, visit: rockinriverfest.com. For more information about the talent contest, visit:
roadtoriverfest.com
Steph Troughton
2016 Merritt Rockin' River Fest
604-637-6649 (direct)
778-989-1469 (cell)
Stroughton@lbmg.ca