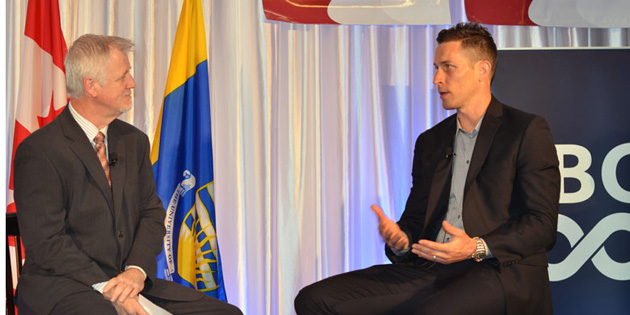 Retired from professional soccer at the age of 33, Kelowna's Rob Friend shared a passionate message for the audience at Friday morning's 11th annual Valley First/UBC Okanagan Athletics Breakfast – he can never kick a soccer ball again.
"I had to step away from the game totally. I can't kick a ball again because I can't ever head a ball again," he said. "Overnight, your passion and purpose is gone. It's a scary thing for a professional athlete."
Friend, a graduate of KLO Secondary School, went to Western Michigan University and the University of California Santa Barbara where he studied business economics. He captained the UC Santa Barbara men's soccer team, was named an All-American and was also the 2001 NCAA Division 1 top scorer. After graduation, he was drafted into Europe's professional league, playing with Norway's most successful club, Molde FK, which won the prestigious Norwegian Cup in 2005.
His career came to an end in 2014, shortly after joining LA Galaxy in its MLS championship-winning season. One too many headers and several severe concussions ended his game. He explained the transition to the sidelines is like suddenly losing your entire identity. Everything you woke up for, the years of training, the game you loved, the team, was taken away. He is now helping other athletes learn to deal with similar conditions.
Friend was interviewed during the breakfast by Pat Kennedy, managing director of the Central Okanagan Sports Hall of Fame. While there were some somber moments and a key message about playing while concussed, he was also able to speak about the game he loved and the absolute joy of playing both professionally and for the Canadian National Men's team.
"I thought I was a big deal when I left Kelowna to go and play in Europe. It was the biggest thing in the world and I had to pinch myself to see if it was true," Friend said. "And when you're playing for Canada, when you put on that national jersey… It is the best feeling in the world."
Each spring, UBC Okanagan hosts the Valley First/UBC Okanagan Athletics Breakfast as a fundraiser to support student athletes. Okanagan Heat basketball point guard Mitch Goodwin, a Kelowna Secondary School grad and fourth-year Human Kinetics student, thanked the many supporters and explained that Heat athletes are not only busy on the courts, fields and in classrooms, but many volunteer throughout the community.
"I can't thank all of you personally," Goodwin said. "But what I can do to return the favour is to volunteer in our community and help young children who may never have a chance to play a sport. It also helps us think how fortunate we all are."
While Rob Johnson, director of UBC Okanagan's Athletics & Recreation, spoke about the many academic and athletic accomplishments of Heat student athletes, UBC Deputy Vice-Chancellor and Principal Deborah Buszard tallied up the total raised at the breakfast event and thanked the audience for its continued support.
"UBC matches every dollar raised and I'm thrilled to say we have now raised more than $620,000 for the scholarship fund," Buszard said. "It's simply amazing what this campus has been able to accomplish in just over a decade."
As a result of the scholarship, $16,500 in awards is available to student athletes for the coming year.