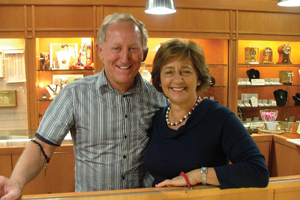 Family owned and operated La Roca Watch & Jewellery has been proudly serving the Valley since 2000 and has been voted best jeweller in the Okanagan by the readers of Okanagan Life. Specializing in watches and unique jewellery, La Roca offers rare and collectible pieces to clients around the world.
Owner Ted Risko has been a professional watchmaker for over 30 years. An avid collector of watches, pocket watches, vintage pieces and coins, Ted enjoys the intricacies of repairing timepieces and the satisfaction of offering quality items to the discerning client.
Growing up in Paraguay, Ted frequently repaired timepieces for a Canadian missionary who encouraged him to emigrate. Although the Canadian Consulate doubted he would succeed here?—?they believed he was too young, had little money and his skills were insufficient for him to be able to make a living?—?Ted was determined. After three rejections, he arrived in Edmonton in 1970. He spoke no English and had never seen snow; it was -40 C.
Ted immediately found work at Peoples Jewellers, earning $100 a week. He was busy and successful, eventually purchasing the jewelry service department and then a store, Swedish Jewellers, which became the biggest and best Rolex dealership in Alberta in the 1980s.
Although the watchmaking profession seems to be almost extinct, Ted says many brands are making timepieces with manual movements again and there is a desperate need for young people to be trained in the skill.
Ted is extremely appreciative of the opportunities he has found in Canada, where his little family of four daughters has grown to over 20.
Along with providing expert repairs and restorations, La Roca carries a wide selection of fine timepieces and exclusive jewellery collections.
Headlining the watch selection is the internationally renowned Ball Watch, heir to the universally recognized standard of railway time and railway watches. Rotary is a brand with impeccable Swiss origins dating to 1895. Today, the Rotary Reversible is a popular choice for travellers while the Aquaspeed is a robust yet stylish unisex sports watch with professional instrumentation like chronographs and circular slide rules. The Tissot brand is another Swiss legend with timekeeping excellence that reaches such venues as the AFL, MotoGP, the World Championships of cycling, fencing and ice hockey. Divers and outdoor enthusiasts are drawn to watches by Momentum, a Swiss watchmaker with a reputation for durability and functionality.
But La Roca isn't just about keeping accurate time. Bridal couples trust their selection of traditional and contemporary engagement rings and wedding bands in gold, platinum, tungsten carbide and titanium.
If unique style is your trademark, the selection of artistic enamelware by the sought after Austrian jeweller Frey Willie is a must see. And for sentimentalists looking to remember special people and occasions, see the Chamillia twist on the traditional charm bracelet.
" As we celebrate our 12th year in the Okanagan, we want to thank all of our new and loyal repeat customers. In spite of tough times, you keep bringing us record sales."
Visit La Roca at 2915 Pandosy St., Kelowna.