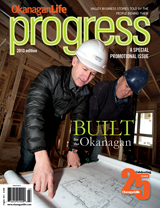 It has only been three years since doctors Mandy Wong and Janna Bentley teamed up to open Lakeshore Vein and Aesthetics Clinic, a medical facility devoted to delivering quality care for the medical and cosmetic treatment of varicose veins and skin problems. But to keep up with growth they have had to hire more nurses and two more doctors, Henry Docherty and Julie Parker.
As seen in Progress 2012.
Doctors Wong and Bentley have been actively involved in skin care since 1994 and are the only accredited varicose vein laser treatment physicians in Kelowna. Endovenous laser treatment (EVLT) is a no surgery, no scar way to treat varicose veins. Both are on the board of directors for the Canadian Society of Phlebology (science of veins) and this spring the national meeting will be held in Kelowna. They are both looking forward to hosting the conference attendees who come from around the world.
"We see a lot of skin cancer in the Okanagan," says Wong. She and Docherty have a special interest in skin cancer medicine and are in the final steps of completing their masters in skin cancer through the University of Queensland, Australia, to further their knowledge, diagnosis, treatment and prevention of pigmented lesions.
The clinic's expertise in dermatology has led to an invitation from UBC Okanagan to be a part of its medical school. Starting this spring, the clinic will be teaching dermatology to third year med students.
Wong is excited to announce the arrival of CoolSculpt technology to the clinic. The device is used to kill 20 per cent of fat cells. "We don't buy anything unless it works," she says. The procedure—invented by Harvard scientists—is meant for fit people who are close to their ideal body weight but who have little pouches of fat they want to get rid of like love handles.
"The growth of the clinic tells us we are doing something right," says Wong. Lakeshore Vein and Aesthetics Clinic is a full-service non-surgical medical cosmetic centre dedicated to delivering excellent patient care.