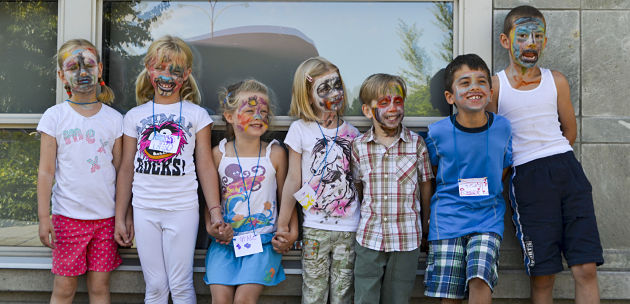 The Kelowna Art Gallery has a creative solution for parents wondering how to keep their children busy during the upcoming Spring Break. Art Break offers kids an exciting atmosphere and opportunity to create art, with activities in painting, sculpture, drawing, mixed media, and printmaking.
"Encouraging their creativity and showing children how rewarding actively participating in the visual arts can be is our focus," says Renée Burgess, Head of Public Programming at the Kelowna Art Gallery. "In addition to creative exploration for participants, Art Break can offer parents peace of mind that their children will be spending Spring Break with their peers in a nurturing and safe environment."
Each day of Art Break offers something new for children ages 5 and 6, with varying daily themes that explore works of art by Picasso, the Impressionists, abstract art, pop art, and surreal art, led by instructor Jolene Mackie. Camps are held from 9:00 am to 3:00 pm from Monday to Friday, March 24 to 28.
On Thursday, March 27 and Friday, March 28, children ages 7 to 10 can join Okanagan artist and educator Jim Elwood to explore art forms and cultures from exciting far-away places – everything from paintings of Paris to medicine wheels from the Prairies, and block prints from Germany. Camps will be held both days from 9:00 am to 3:00 pm. To register, contact the Gallery at 250-762-2226.
Art Break classes are eligible for the federal children's arts tax credit of up to $500. For more information on receiving the children's arts tax credit please visit the Canada Revenue Agency online at www.cra.gc.ca/artscredit.
The Kelowna Art Gallery is located at 1315 Water Street, in the heart of the Cultural District in downtown Kelowna. For hours of operation, or more information about other programs available, and current exhibitions on view, visit the Kelowna Art Gallery online at kelownaartgallery.com.