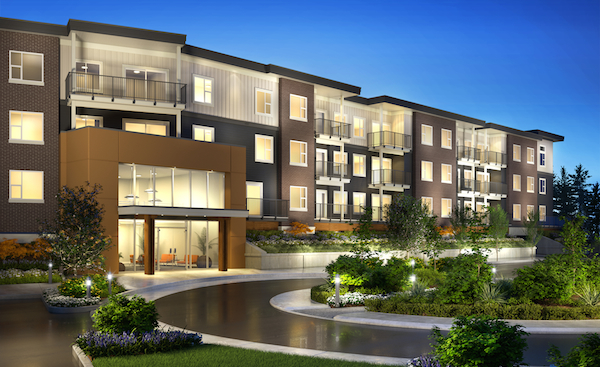 At only 1.0 per cent, Kelowna's low vacancy rate is fuelling success for Okanagan builder Mission Group, who is seeing a surge of interest in its U-One hilltop condominium community located next to the UBC Okanagan campus.
"Kelowna is nearing a vacancy crisis, particularly in student housing," says Mission Group Homes president Randy Shier. "We've seen rising enrolment at the UBC Okanagan and a rapid decline in rental accommodation in our city. Located within walking distance to class, U-One provides much-needed accommodation and investors are recognizing this as a great opportunity to buy an income-producing property."
Kelowna currently has the lowest vacancy in Canada at 1.0 per cent. Released in December, Canada Mortgage and Housing Corporation's (CMHC) Rental Market Survey reports rental conditions tightening across all bedroom types and all ages of the rental stock in Kelowna. The 1.0 per cent is a drop from 1.8 per cent one year prior.
"Investors in U-One can anticipate healthy rental rates," says Shier. "The supply of rental accommodation in Kelowna has not kept up with the demand. With a growing population and an improving labour market, we're seeing downward pressure on apartment rental vacancy rates. It's all great news for investors looking for rental property."
Among Canada's largest centres, both Kelowna and Vancouver reported vacancy rates at 1.0 per cent with Guelph at 1.2 per cent, Calgary at 1.4 per cent and Victoria at 1.5 per cent. CMHC's Rental Market Survey is conducted twice a year. The number of purpose-built rental units in the Kelowna area has been near a standstill since 2007, according to CMHC.
Designed by award-winning architect Meiklejohn Architects, U-One offers a classic and distinct "campus modern" feel. Each home includes an outside balcony or patio to enjoy the hilltop views while ground units have fenced yards. The 66-home, three-floor community offers one, two and three-bedroom suites ranging from 507 to 1086 sq. ft. Prices start from $189,000.
Onsite trails and a paved pedestrian walkway link to the University and regional hiking and biking trails offer recreational options. Rapid Transit Bus routes connect to downtown businesses and beaches, as well as to most areas of the city.
UBC is updating the long-term development plan for the Okanagan campus in Kelowna with a  planned $400-million construction program for new student housing, academic buildings, and recreational facilities. (see: UBCO Master Plan)
Following their success with the Verve, Mode and Brighton communities, Mission Group is leading the way in 2015 with U-One's contemporary homes. The U-One presentation centre and display suite are open for viewing Saturday to Wednesday from noon to 4 pm at 975 Academy Way. Learn more at uoneliving.com.
See more on Okanagan developments:
[downloads ids="122237″ full_content="yes" columns="1″]