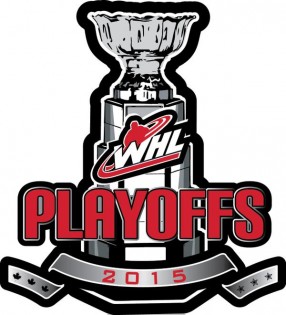 The Kelowna Rockets open the first round of the 2015 WHL playoffs against the Tri City Americans. This is the eighth consecutive appearance in the post season for the Kelowna Rockets, reaching the playoffs 19 times in the franchise's 20-year history.
The Rockets finished in first place in the Western Conference with 53 wins. Their 53 wins and 112 points was the second highest total in franchise history. The team scored 305 goals, the second most in the WHL.
Overall, this is the 6th time the Kelowna Rockets have faced Tri City Americans in the playoffs. In 2014, the two teams met in the opening round with the Rockets winning in five games.
In regular play this season, the two teams met four times with the Kelowna Rockets going 3-1-0-0.
The Rockets head into the post season riding a two game winning streak after wins against Vancouver last weekend. Since the Christmas break the Rockets are 25-8-2-1.
You can now purchase single game tickets to the first 2 playoff games (Mar 27 & Mar 28) Contact @sytnews to get yours pic.twitter.com/XBFuLOTKui

— Kelowna Rockets (@Kelowna_Rockets) March 17, 2015
In regular season, Nick Merkley led the team in scoring with 20 goals, 70 assists and 90 points. Rourke Chartier was named the Kelowna Rockets MVP. Players to watch also inso include top defenceman Madison Bowey, rookie-of -the-year Devante Stephens and Leon Draisaitl who has thirty-six points (12+24=36) in his last 20 games. Madison Bowey and Rourke Chartier were named first team Western Conference all-stars.
WATCH The #CHL panel's #WHL playoff preview. Can Merkley lead the @Kelowna_Rockets to a title? http://t.co/keEKUrvx5F pic.twitter.com/uGiaPXBfiP — Junior (@SNetJunior) March 25, 2015