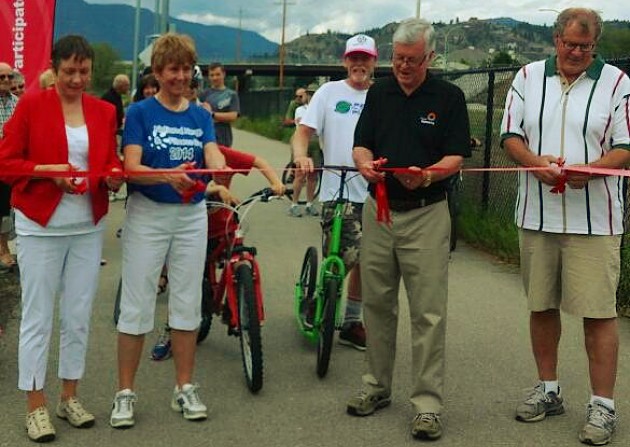 Phase 2 of the Rails with Trails pathway was opened today in #Kelowna as part of the celebration for National Health and Fitness Day. This project completes a vital link in the existing network of active transportation corridors, helping residents get off the road for recreation or their daily commute.
"Kelowna's Rails with Trails project is expanding commuting and recreational travel options within the City," said Kelowna Mayor Walter Gray. "I appreciate the support provided through the federal Gas Tax Fund for infrastructure that encourages active living for residents and visitors to Kelowna."
The 4.5-metre wide pathway extends the existing pathway an extra 1.5 kilometres east, from Spall Road to Dilworth Drive, building on the success of the first phase of Rails with Trails, which runs from Gordon Drive to Spall Road.
The trail links employment hubs, such as downtown and the Landmark buildings, to where people live. It also connects neighbourhoods and town centres to many of the city's recreational amenities. Future phases of the project will include a pathway that connects Kelowna's downtown and cultural district to the University of British Columbia Okanagan, Kelowna International Airport and beyond.
The Government of Canada is providing $1.46 million through the federal Gas Tax Fund, and the Government of British Columbia is providing $1.52 million through BikeBC toward this nearly $3 million infrastructure project.
"Our investment in cycling infrastructure is building healthier communities and environments throughout the province," said Steve Thomson, Minister of Forests, Lands and Natural Resource Operations and MLA for Kelowna-Mission. "The opening of Phase 2 of the Rails with Trails bike path will not only help residents of the Central Okanagan embrace a healthier lifestyle, it provides a clean transportation option that promotes a healthier, greener future for all British Columbians."