Kelowna's new Okanagan Centre for Innovation is now open.
Kelowna Mayor Basran and Premier Christy Clark official opened the tech centre on Friday. The six-storey, 9,728 sq.m. state-of-the-art centre is designed to help build Canada's most innovative, creative and entrepreneurial technology community.
"The Okanagan's technology sector is thriving – and has the potential to keep growing and creating more and more jobs," Premier Christy Clark said. "We are investing in the Okanagan Centre for Innovation to provide entrepreneurs with the skills, guidance and workspace they need to take their ideas and businesses to the next level."
Conceived by a group of entrepreneurs, community and civic leaders, the Okanagan Centre for Innovation will house everything from two-person start-ups to large-scale technology and innovation firms with the goal of fostering collaboration and innovation between tenants.
"This project will have a significant economic impact on our community and really puts us at the forefront of technological innovation in Canada," says Kelowna Mayor Colin Basran. "We're excited to have this facility in downtown Kelowna and we're looking forward to the jobs, investment, great ideas and great products that will be generated here."
The second floor of the centre will act as a business incubator and provide low-cost, flexible space for tech entrepreneurs, start-ups and students, who will also gain benefits from the co-working space to meet, network and collaborate on ideas and projects. They will as also have access to mentoring and support from in-house neighbours like BC Innovation Council's regional accelerator partner, Accelerate Okanagan.
The Government of Canada has provided $3.4 million for tenant improvements, equipment and the operation of the second floor incubation space and main floor presentation theatre.
"Canadian entrepreneurs are working hard to bring their innovative products and services to market. That is why we are proud to support the Okanagan Centre for Innovation as it provides tech start-ups with access to workspace, funding, and mentorship," said Navdeep Bains, Minister of Innovation, Science and Economic Development and Minister responsible for Western Economic Diversification Canada. "Congratulations to the OCI for helping to promote economic growth, create high-quality jobs and shape Canada's innovation landscape."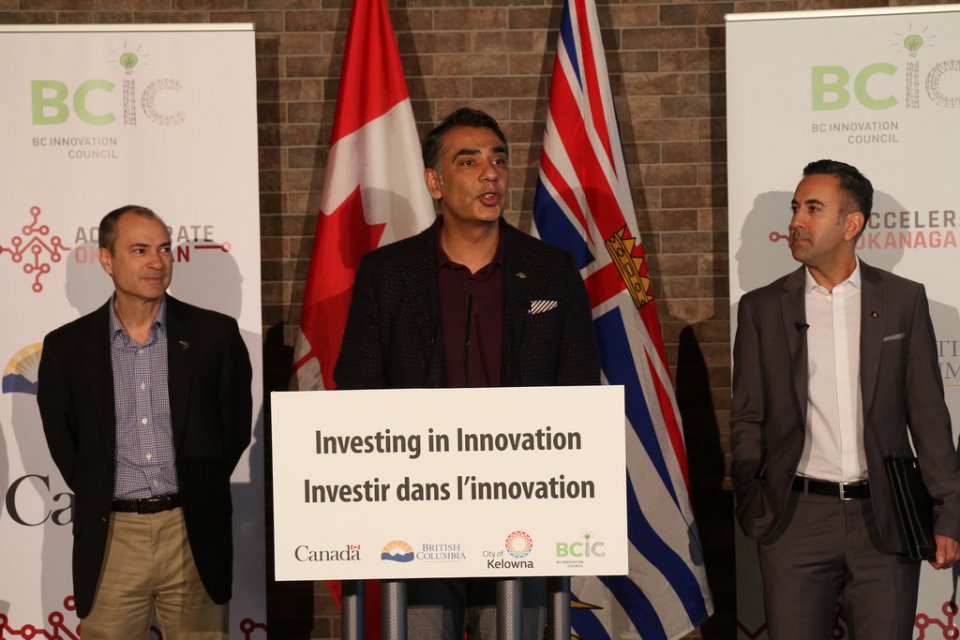 The B.C. government has invested $6 million for ownership of the second floor through its Crown agency, BC Innovation Council. With this contribution, the BC Innovation Council's regional partner accelerator, Accelerate Okanagan, will provide low-cost space available for entrepreneurs who have completed the Venture Acceleration Program and are at a venture stage; requiring space to get their business started. There will also be spots available to any tech start-ups looking for affordable space.
The Okanagan Centre for Innovation is a commitment under the Province of B.C.'s tech strategy to help promising tech companies succeed - making it easier to collaborate and share ideas, create jobs and grow B.C.'s tech sector.
The $35-million project is being funded largely by the Kelowna Sustainable Innovation Group, majority owners and operators of the building. The facility is on city-owned land valued at more than $2 million, under long-term lease from the City of Kelowna.