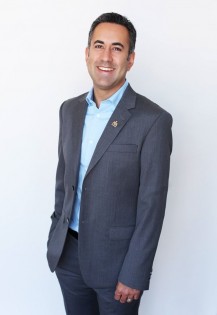 Kelowna Mayor Colin Basran addressed a large crowd gathered Wednesday for the annual Kelowna Chamber of Commerce State of the City lunch meeting at the Capri Hotel.
Mayor Basran described the major changes coming to the city in the next four years, calling this time a turning point in the development of a more diversified local economy.
"The city's skyline will change with major new developments coming on the market downtown, in Rutland and South Pandosy," said Mayor Basran. "But I expect the change over the next four years to be more profound than just the urban landscape."
Citing statistics that show rising numbers of people working locally in the technology and professional sectors, the mayor said Kelowna's is shifting to a knowledge-based economy. That shift is helped by the "four pillars" of the local economy – Okanagan College, UBC Okanagan, Kelowna General Hospital and Kelowna International Airport.
"A lot of our diversity also comes from these 'four pillars'…These are growing institutional foundations that generate a lot of jobs and economic output," he said.
Mayor Basran also described the numerous building projects planned for 2015, including the new Police Services Building, Lakeshore Road improvements around Anne McClymont Elementary, South Perimeter Road, Queensway Transit Station and downtown parkades.
Priority 1 capital projects approved for 2015 amount to $91 million. Some projects incomplete from 2014 will also be finished this year, such as Clifton Road upgrade and finishings on Lakeshore Road.
Through a reoccurring theme of "building community," the mayor also described the city of Kelowna's ongoing investments in hundreds of services, programs and initiatives, saying these are fundamental to any community's character.
"Sometimes the hundreds of services the city provides every day are overshadowed by our interest in the new facilities and projects we have on the go… but it's important to note these services because our sense of community doesn't come from new buildings or new roads, it comes from the number and quality of services we provide."
For the full speech look for the State of the City link at kelowna.ca/council.
[fbcomments]