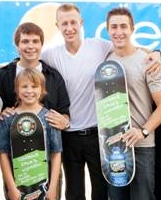 Kelowna locals Erik Madsen and Wynden Danylowich have taken top spot in Mountain Dew Canada's DEWmocracy video contest. Masden and Danylowich created the winning video in support of Voltage, and will be taking home 1% of Voltage net sales over the next two years.
DEWmocracy kicked off on March 18 of this year. In addition to putting Canadians in the driver seat to select the next flavour of DEW® that comes to Canada, fans also had a chance to enter a video contest to rally behind their favourite flavour. Madsen and Danylowich's video, Rise of the Storm, was not only the most popular video socially, receiving over 20,000 views, but they also scored high in creativity, originality and passion for their flavour of DEW crowning them king of this year's contest.
Voltage has already started to hit shelves of stores across Canada.