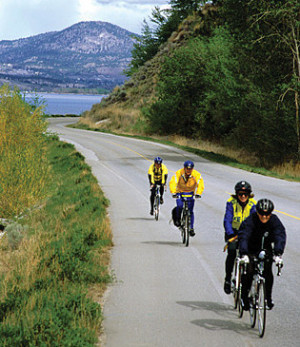 The City of Kelowna will host the Axel Merckx Youth Development Foundation's premiere youth cycling event Friday, Aug. 29 to Sunday, Aug. 31.
This event allows the region's promising 11- to 18-year-old cyclists to race under a structured learning environment, while competing directly with their peers. World-renowned cycling champion Axel Merckx and his team of coaches will run a collection of learn-to-race cycling events including coaching seminars, athlete development lectures and age-group category races.
"I would like to help Canada's youth pursue their dreams in the sport of cycling and this new partnership with Cycling BC and the Canadian Cycling Association will help achieve this goal." says Merckx.
No racing experience is necessary for participants, who will have the opportunity to learn from some of the best cycling coaches in the area, win great prizing and meet other kids developing their cycling skills from around BC.
To maintain a safe race course for the young athletes, road closures and occasional traffic delays will be in effect in the Southeast Kelowna area on Aug. 29 and 31 and in the area surrounding the Kelowna Curling Club on Saturday, Aug. 30.
Access to homes and businesses in the area will be maintained and volunteer traffic flaggers will be stationed at intersections and other junction points along the routes to direct athletes and traffic. Motorists are asked to reduce their speeds through race areas, obey flaggers and watch for cyclists on the race courses.
The Axel Merckx Youth Cycling Series is organized entirely by volunteers, and motorists' cooperation and patience is appreciated throughout the event weekend.
To find out more information about this event or to register, visit amydf.org.