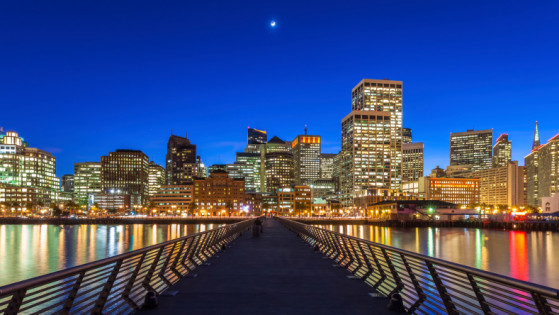 Kelowna International Airport (YLW) is pleased to announce daily United Express service to San Francisco (SFO) will commence Sept. 20, 2014.  The new San Francisco flights replace the scheduled service from YLW to LAX, which will end Sept. 19
The high-tech industry, wineries and tourism in the Okanagan will be just some of the many economic sectors that see an immediate benefit to this new route.
"The addition of a direct Kelowna/San Francisco route will be an invaluable tool in growing Kelowna's technology industry," says Lane Merrifield, co-founder of Club Penguin and local entrepreneur.  "A direct air link will greatly assist in company access, investment opportunities and workforce development as the Okanagan Valley continues to link economically to Silicon Valley. Kelowna is already known as one of Canada's most entrepreneurial cities, and this only reinforces that."
"Not only can we now access the San Francisco tourist market, LA continues to be within our reach due to the frequent flights between the LA basin and San Francisco," says Nancy Cameron, CEO of Tourism Kelowna.  "Growth in air connectivity means growth in tourism and this development is very positive news for Kelowna and the Okanagan Valley."
United is the largest carrier at San Francisco International Airport, offering nearly 300 daily flights to more than 90 destinations in the U.S. and around the world, more service than any other airline from the Bay Area. From its San Francisco hub, United also offers more non-stop trans-Pacific service to and from the United States than any other carrier hub. United currently operates nearly 30 daily non-stop flights from San Francisco to 21 international destinations.
"This new service to SFO will provide our travellers better connection points to many more U.S. cities," says Airport Director Sam Samaddar. "The SFO terminal also provides travellers better connection points and closer walking distances from International to domestic gates."
The new San Francisco flights replace the scheduled service from YLW to LAX, which will end Sept. 19. There will however be intermittent LAX to YLW non-stop service from Dec. 20 to Jan. 4 on Saturday and Sundays and then Saturdays only Jan. 31 to Feb. 7 to accommodate the ski travellers. United will contact customers currently booked to travel to LAX after Sept. 20 or outside the dates mentioned above to offer alternate arrangements.  
United's non-stop flights are now available to book on-line at united.com.
For more information about YLW, its destinations and services, visit the airport's website at ylw.kelowna.ca.