Kelowna Chamber of Commerce honoured 25 finalists at the 27th Annual Business Excellence Awards. Presented by the Kelowna Chamber of Commerce, and sponsors the Business Development Bank of Canada and Farris, Vaughan, Wills & Murphy LLP, the popular Kelowna event is part of the annual Small Business Week.
This year's winner of Business Excellence awards are.
Business Leader of the Year - Mike Jacobs
Rising Star Business of the Year - Mission Creek Orthodontics
Young Entrepreneur of the Year - Guiseppe Simpatico, GoodSir Creative Inc.
Small Business of the Year - Interior Portable Rentals
Mid-Size Business of the Year - Border Plumbing, Heating and Air
Large Business of the Year - Waterplay Solutions Corp
Eco-Star Innovation Award - GreenStep Solutions Inc.
Distinction in Hospitality & Tourism Award - Wells Gray Tours Ltd.
Community Impact Award - Kelowna General Hospital Foundation
Marketer of the Year - Get in the Loop
For finalist, please see below. The Business Excellence Awards have been celebrating outstanding success in Kelowna since 1987.
BUSINESS LEADER OF THE YEAR
Sponsored by: Ian Stuart & Associates
Mike Jacobs, fourth generation leader of the family owned Emil Anderson Construction, will be honoured with the Business Leader of the year award.
Photo: Emil Anderson Construction recently completed work on the $33.7 million construction project on Highway 97A, just north of Vernon.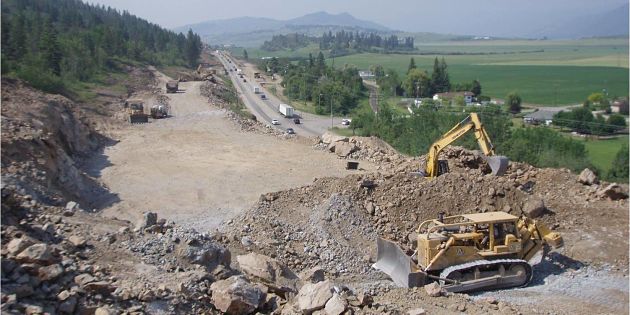 The Business Excellence finalists for 2014 were:
RISING STAR AWARD
Mission Creek Orthodontics
Wink I Wear Inc.
Sponsored by: FortisBC
COMMUNITY IMPACT AWARD
KGH Foundation
The Bridge Youth & Family Services Society
Sponsored by: Urban Systems Ltd.
YOUNG ENTREPRENEUR OF THE YEAR AWARD
Guiseppe Simpatico, GoodSir Creative Inc.
Dr. Derek Pollard, Mission creek Orthodontics
David Veldhoen, Shorestone Homes Ltd.
Sponsored by: UBC Okanagan
ECO-STAR INNOVATION AWARD
GreenStep Solutions Inc.
Okanagan Car Share Co-op
Sponsored by: Interior Savings Credit Union
DISTINCTION IN HOSPITALITY & TOURISM AWARD
Okanagan Wine Country Tours
Wells Gray Tours Ltd.
WildPlay Element Parks
Sponsored by: Tourism Kelowna
MARKETER OF THE YEAR AWARD
Get in the Loop
Juice FM, Vista Radio
Twin Creek Media Inc.
Sponsored by: Pushor Mitchell LLP
SMALL BUSINESS AWARD (1-10 employees)
Cellar-Tek Supplies Ltd.
Interior Portable Rentals
Lyman Lures Manufacturing Ltd.
Sponsored by: Prospera Credit Union
MID-SIZE BUSINESS AWARD (11-30 employees)
AAA Internet Publishing Inc. (DBA WTFast).
Border Plumbing, Heating and Air
Building Blocks Educational Daycare.
Sponsored by: BDO Canada LLP
LARGE BUSINESS AWARD (31+ employees)
Boyd Autobody & Glass
Northside Industries
SW Audio + Visual
Waterplay Solutions Corp.
Sponsored by: Grant Thornton LLP