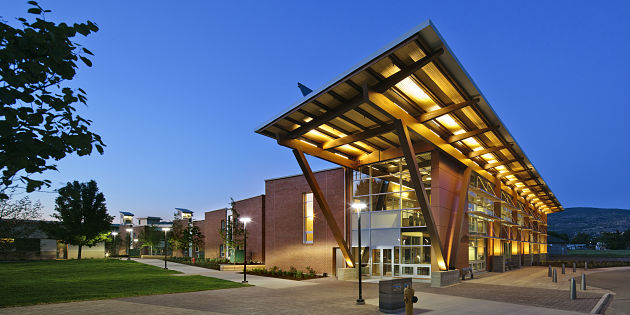 After becoming the first building of its size in the region to receive LEED Platinum certification, the Centre of Excellence in Sustainable Building Technologies and Renewable Energy Conservation has been named the most sustainable post-secondary building in the country.
The Penticton building earned the top honour – Gold – in the university and college buildings category of the 2016 Green Buildings Review, a recent ranking of Canada's greenest buildings.
"This latest recognition for the Centre of Excellence is heartening for us because it re-affirms the high level of sustainability we have been able to achieve and maintain since the building opened in 2011," says Okanagan College President Jim Hamilton.
"Sustainability is deeply rooted in our core values, and this ranking will challenge us as an institution to continue to push the envelope in providing our students with learning environments that embody and inspire innovation."
The review was released in March by Corporate Knights magazine, a nationally distributed publication focused on corporate ethics. It identified Canada's dozen greenest buildings, as selected by a panel of building industry experts.
In order to earn a spot in the top 12, the Centre of Excellence at the College's Penticton campus first had to land on a shortlist of 22 leading facilities whittled down from an original pool of 200. Judges awarded distinctions of Gold, Silver, and Bronze to the greenest buildings in each of four categories: universities and college buildings, hospitals, office buildings, and other public buildings.
Okanagan College faced strong competition in its category. UBC's Centre for Interactive Research on Sustainability in Vancouver was awarded Silver, and Dalhousie's Mona Campbell Building received the Bronze award.
"It is a great source of pride for our students and staff that our facility stands among other leaders in the post-secondary sector, and among buildings in much larger centres," says Donna Lomas, Okanagan College's Regional Dean of the South Okanagan-Similkameen.
"We could not be more pleased with the way the building has attracted people here to learn, work, and collaborate—from students and staff, to members of the community, to visitors from all over the world."
This most recent accolade adds to a growing list of provincial, national, and international recognition garnered by the building for its achievements in sustainability. It was one of only three buildings in North America to be featured by the New York Times as examples of carbon-neutral post-secondary facilities.
The College received LEED Platinum certification in June 2015. A ceremony was held this past February to unveil the official Platinum plaque bestowed upon the College by the Canada Green Building Council. LEED stands for Leadership in Energy and Environmental Design. It is globally recognized as a means of assessing green building practices and outcomes. Platinum is the highest LEED certification that can be achieved.
The Centre of Excellence opened in 2011, and was jointly funded by the federal and provincial governments along with more than $9 million in community contributions. Since the opening of the building, continued community support has also helped to launch new programs and create additional support for students at the Penticton campus.
Read the full results of the 2016 Green Building Review here.