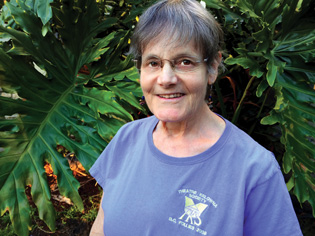 Kelowna's Debby Helf has devoted most of her life to theatre, particularly community theatre. She started putting on plays when she was four, obtained her BA in dramatic arts from the University of California at Berkeley in 1968, and has been involved with Theatre Kelowna for a whopping 32 years.
Along with community theatre groups from Salmon Arm to Penticton, Theatre Kelowna is part of the Okanagan Zone (Ozone) of Theatre BC, which is comprised of 12 zones around the province. The different groups and then zones compete for awards presented by Theatre BC at Mainstage, its annual provincial theatre festival.
"It is unique that BC has a province-wide organization that supports community theatre. Not every province in Canada has this," says Debby, who has been involved in most of the Theatre BC Mainstage events either on or off stage.
However, her appearance at the July 2013 event in Kamloops came as a surprise to her (if to no one else), when Theatre BC awarded her the Eric Hamber Award for lifetime contributions to community theatre.
"I felt just stunned when I heard the announcement from the stage," says Debby. "I felt great gratitude to the people who nominated me. It feels really wonderful to be recognized by your peers."
Born in San Francisco, she moved to Canada with her husband in 1968 so he wouldn't be drafted for the Vietnam War.
In 1981, after the birth of her two sons, Johann and Cyrus, she joined Theatre Kelowna and was elected to the board two years later. "It was like water for a person in the desert. I hadn't been on the stage for 13 years. It was unbelievable?…?ecstasy."
Debby says she has held every position on the board. "When you're in community theatre, you do everything, working on all aspects of each show. I haven't directed, but I've done everything else: stage manager, producer, props, costumes, makeup, publicity, dishwasher." She was also among the group of people who were instrumental in making Kelowna's Rotary Centre for the Arts a reality.
Over her 32 years, Debby says she's been in over 50 shows as an actor and over 100 in different capacities both on stage and back stage.
Her favourite role was playing the fairy godmother in 1988's Cinderella. "It was magical to interact with the children in the audience."
Debby's onstage ability has been well recognized over the years. She has garnered many awards at the zone level for Best Actress and Best Supporting Actress, and won Theatre BC's Best Supporting Actress award twice, in 1996 for her role in A Lie of the Mind and in 2004 for Unity (1918).
"You get a statuette by Kelowna sculptor Geert Maas instead of an Oscar," she says. "It's called a Thespian."
Debby finds community theatre a wonderful experience, because it involves working with people. "The friendships and love are priceless. Anyone who has ever loved theatre can come and will be welcomed."
Currently spending her winters in Los Angeles with her two sons, Debby remains on the Theatre Kelowna board. "I will attend the summer Theatre BC Mainstage event," she says, "and if a good role comes along, I might consider it."