For the first time in over a year, the waterwheel on the historic flour mill at the Grist Mill and Gardens historic site will soon be turning again, making it again the only working waterwheel-powered flour mill in Western Canada.
"After a spring of hard work building a brand new wheel in the traditional style, we're excited to get the iconic part of our site moving again," says Chris Mathieson, operator of the Grist Mill and Gardens Provincial Heritage Site. "There will be a ceremony Sunday before we open the flume and baptize our new waterwheel. It's a once-in-a-generation moment and we'd love to share it with the community."
The Mill's original waterwheel, built in 1877, disappeared sometime around 1900 in a flood. When the Province of BC began restoration of the Grist Mill in the early 1980s, archeological excavation uncovered the historic foundation timbers beneath 20 cm of silt; a new waterwheel was built based on this evidence. Since then, successive waterwheels have lasted approximately 15 years before needing replacing. The most recent waterwheel suffered a structural failure in spring 2016 and funding was secured from the Heritage Branch of the Province of BC to build a replacement.
"We were fortunate to already have an expert on staff," says Chris Mathieson. "Cuyler Page, who was the General Manager of the site from the 1980s until 2003, led the previous wheel construction 15 years ago, and joined our team in 2013 when we took over operation of the site."
July 28 festivities, starting at 3pm, will include remarks from Chris Mathieson (Site Operator), Cuyler Page (Project Lead) and Wilfrid Mennell (Chair of the Grist Mill Foundation, the site's volunteer group) as well a champagne toast, the ceremonial opening of the flume, displays and more. Usual site admission fees apply.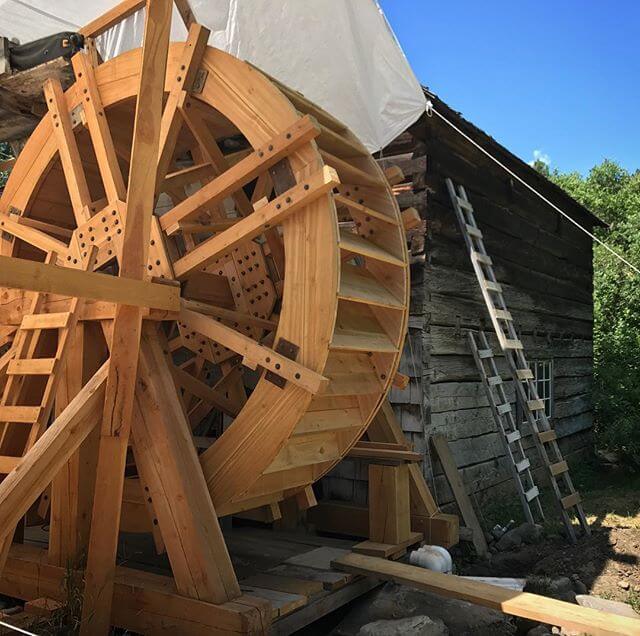 Musical concerts and events
Every summer, the Grist Mill features some exceptional classical, traditional, folk, roots, world music, and acoustic blues talents as they perform in the heritage gardens.
Astronomy Night at the Grist Mill
August 3
Concert: 100 Mile House
August 4
Concert: Raine Hamilton
August 10
Concert: The Eisenhauers
August 17
Garden Band Session: The Irish Wakers
August 18
Teddy Bears' Picnic
August 19
Sunday Dinner Series – August 20
August 20