Green light for Across the Lake Swim
Organizers have  given the Across the Lake Swim a green light for this year's event. Now in its 69th year, the Interior Savings Across the Lake Swim Kelowna is set for July 15, 2017, well after the projected water level peak.
The Kelowna 2.1-kilometre swim event is Canada's largest and longest running open water swim and this year will have over 1,200 participants. The Rattlesnake Island event occurs on August 5, 2017 in Peachland, BC and will have close to 300 participants, double from previous years.
Okanagan Lake is now over 343 metres, surpassing the record flood levels of 1948. The latest projections expect the water level to peak at 343.5 metres by mid-June as 50% of the upper snowpack is still to melt and warmer temperatures are forecasted this week.
Kelowna Mayor Colin Basran has asked residents and visitors to go "wake free" when recreating on Okanagan Lake during the recent flooding, which is expected to return to lower levels later in June. The high waters affect some lake activities, such as motorized boating which can increase erosion on the lake shores during flooding. Non-wake recreational activities such as swimming continue for residents and visitors, and are a welcome relief for the community as temperatures rise.
The swim events also include free blueseventy Open Water Swim Clinics that began on June 3, 2017. As swimmers entered a 17°C Okanagan Lake, there was no hiding the smiles, especially for those that have been dealing with flooding on their properties and in the community, and for those excited to get out of the pool and continue their training in Okanagan Lake for this bucket list event.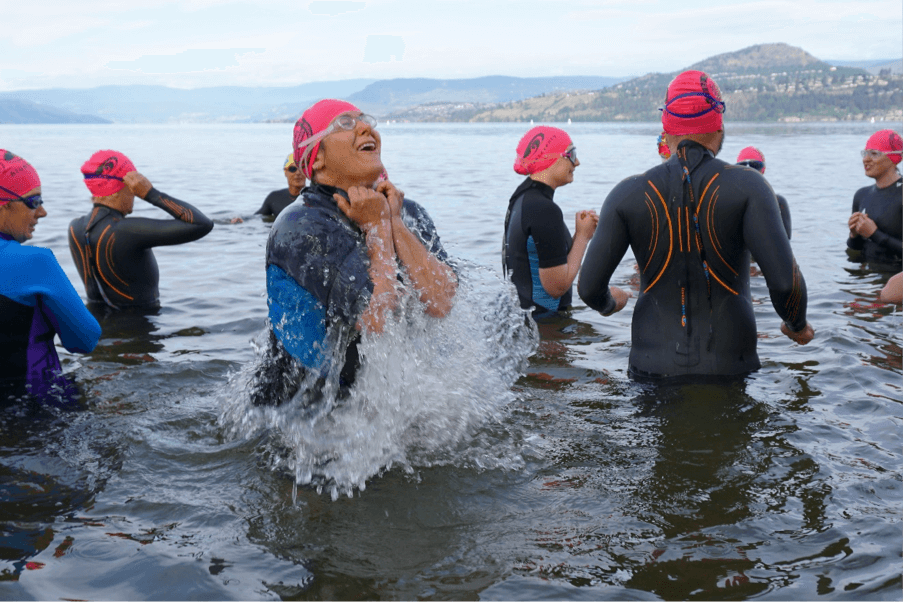 Race Director Peter Rudd has been working to ensure both a respectful use of the lake during the flooding, as well as safety for all participants and volunteers. "We are watching conditions closely. The lake height doesn't affect swimming much as it's still water, just a little deeper. The beaches are always filled with debris this time of year and there is very little debris floating in the lake" says Rudd.
"We do use support boats and paddlers during our two events later in the summer, but these boats will not create any harmful wakes as they always go very slowly to not affect the swimmers" continues Rudd. "The water temperature is actually slightly warmer than average for the start of the open water swimming season here in Kelowna. Also, by the time of our first event on July 15, lake levels are expected to decrease. So, the current conditions don't really affect our events or clinics."
Rudd also notes that the events are an important economic driver for the hospitality industry. "We are excited to bring the 2017 edition of both swims to the Okanagan. Registrations are near selling out for Kelowna, which is good news for our local businesses and sponsors who welcome many out-of-town swimmers and supporters."
Registration is open for both Kelowna and Peachland events:
Photos by Alexis MacMillan