The Westbank and District Chamber of Commerce has received final approval to change the organization's name to "Greater Westside Board of Trade."
"Our goal is to develop an image that will create a higher profile throughout the Greater Westside," says Co-Chair Norm LeCavalier. "Since January 2013, we have been moving in a positive direction and have received lots of support from the Greater Westside business community. This process has taken almost a year to complete and we are very excited about launching our rebranding efforts as soon as possible."
"This is about inclusivity," says Co-Chair Marek Buryska. "This is our opportunity to represent all local businesses on the Westside, encompassing all of the local neighbourhoods like Lakeview Heights and Shannon Lake, downtown Westbank and businesses on Westbank First Nation lands."
Greater Westside Board of Trade represents more than 300 members.
Greater Westside Business After Hours
The December's Business After Hours takes place December 11 at 5:30 pm. The event is hosted by RBC at the Royal Bank location at Okanagan Lake Shopping Centre. Admission is free with a Food Bank donation.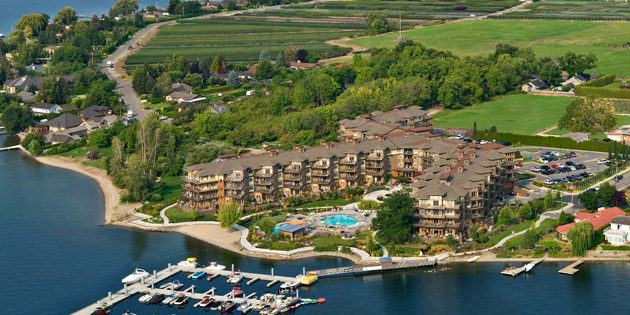 The Cove Lakeside Resort is just one of 300 members represented by the Greater Westside Board of Trade.