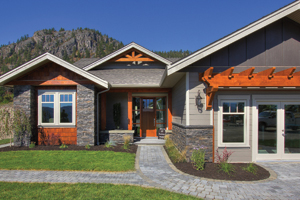 Ready to live the good life? Welcome to Ponderosa, the Okanagan's newest mountainside community. Carved from rugged rock and wilderness forest, the 400-acre site wraps around the base of Peachland's Pincushion Mountain.
At Ponderosa's heart is the golf course, featuring 18 stunning holes designed by Greg "The Shark" Norman. With its breathtaking views and stunning elevation changes, Norman and members of his design team say the Ponderosa will rank among their top courses. It's on schedule to open in 2013.
Surrounding the course is the community of Ponderosa. The array of home styles on offer will attract a variety of residents: locals ready to live the good life, vacationers who want to soak up what our region has to offer, and new-to-the-area residents out to discover the authentic Okanagan lifestyle. Already under construction, the first neighbourhood, The Trails, features a variety of beautiful Craftsman style open-concept townhomes. Other choices coming in 2013 include The Links, with bungalow style vacation cottages along the greens, and The Pines, with single-family residences situated close to the village square. All homes will feature granite countertops, stainless steel appliances and hardwood floors.
As much as you'll love these homes, you'll want to spend plenty of time enjoying your surroundings. You won't need to go far—just step outside. The pedestrian-friendly village at Ponderosa is designed to provide all residents and their guests with an opportunity to dine, shop, stroll and mingle. The winery will bring a unique aspect to the community, putting what the Okanagan is famous for in your own backyard. Only a third of the 400-acre site will be developed for homes; the rest will provide an extraordinary amount of green space—the golf course, a vineyard on the southeastern slope, along with the existing natural landscape with enhanced hiking trails. Plans also include a full-size ice rink and an amphitheatre.
The Ponderosa Golf Course and community have been under development for five years. General manager Doug Goubault is a leader in the golf resort industry. Most recently director of golf at Predator Ridge in Vernon, Doug also brings 10 years of experience with Fairmont Hotel & Resorts in Mexico and Canada. Responsible for opening a new golf course in Playa del Carmen, Mexico, which was named best new international course by Travel and Leisure magazine, Doug was also instrumental in creating the first PGA tour event outside Canada or the USA. Breathtaking views from your crafted home, a community that encourages playtime and engagement, a backyard that includes a championship golf course and stunning views of the lake—Ponderosa makes it easy to live the good life. Visit the Discovery Centre at Peachland Centre Mall in Peachland, or online at ponderosaliving.ca.