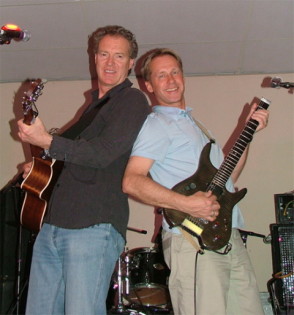 Taking to the stage at downtown Kelowna's The Grateful Fed on Friday, April 25 is local guitar duo, Johnny vs Johnny.
The restaurant's opening in 2002 marked a turn-around for the Kelowna music scene when coffee shops, restaurants and small pubs began to hire singles and duos. The Grateful Fed in downtown Kelowna was one of the tiny venues that brought live music back to the public and today offers up a continually line-up of live music.
The name came from the Grateful Dead, as the owners are 'dead heads'. Happy customers call themselves 'fed heads.' Being hippie-like in nature, The Grateful Fed showcase unique pictures on the walls that convey peace and love, giving patrons a nice warm peaceful easy feeling when they enter the room.
Johnny vs Johnny offers up a lively stage presence. With John Vesterinen on electric guitar and John Paul Byrne on acoustic, the two toss lead vocals back and forth. Byrne's deep baritone pairs well with Vesterinen's tenor and the pair covers some '70s greats like The Beatles, Neil Diamond, and Gordon Lightfoot and rock, blues as well as playing newer artists and a few originals.
Don't forget to come early to dine. You can travel the world through the menu, with plates influenced by many countries from the Mediterranean, the Far East, Europe, the Caribbean and especially Canada.
Over the years The Grateful Fed have had their share of celebrities stopping by including: Graham Nash, Jim Cuddy, Long John Baldry, Billy Connelly, The Tragically Hip, Johnny Reid and more.