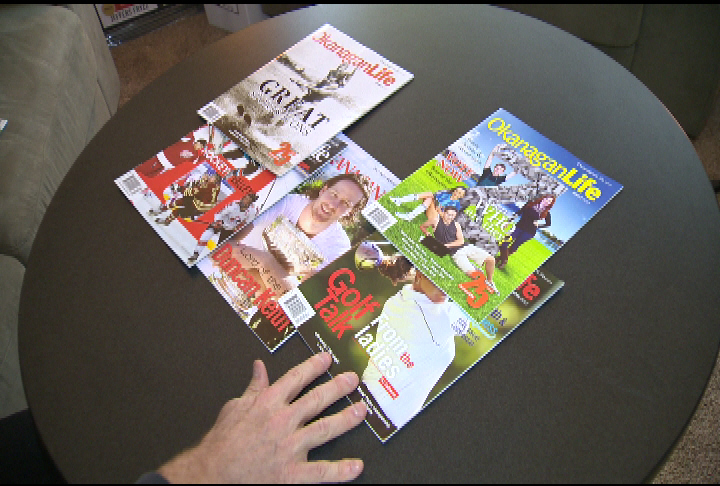 Global Okanagan's reporter Klaudia Ceglarz joins publisher Paul Byrne at the office of Okanagan Life Magazine in downtown Kelowna to discuss the milestone 25th anniversary of the lifestyle magazine. Okanagan Life began publishing in the fall of 1988.
The anniversary gala Cover Party is set for November 22 at the Delta Grand Okanagan.
The video will load below for viewing.
[topswf swf='https://d3pf6blj843au7.cloudfront.net/videoPlayer/html5/1.0.8/shawPlayer3.swf?releaseURL=http%3A%2F%2Flink.theplatform.com%2Fs%2FdtjsEC%2Flf9EQWSpY333%3Ffeed%3DWordpress%2520Automation%3Ffeed%3DGlobalNews%2520webM%2520%2526%2520mp4%26format%3DSMIL%26mbr%3Dtrue&adTagUrl=http%3A//pubads.g.doubleclick.net/gampad/ads%3Fsz%3D320x240%26iu%3D/6872/shaw.globalnews.ca%26ciu_szs%3D1x1%2C120x60%2C122x62%2C300x250%2C728x90%26impl%3Ds%26gdfp_req%3D1%26env%3Dvp%26output%3Dxml_vast2%26unviewed_position_start%3D1%26url%3D%7Breferer%7D%26correlator%3D%7Btimestamp%7D%26cmsid%3D911%26vid%3D%7Bcontentid%7D&oAcct=canglobaltvnews&oNS=canglobaltvnews&oDC=112&oDebug=true&oPName=&cC2=3005660&cC4=12329516&ctUrl=http%3A//globalnews.ca/national/videos/&vmsAcct=dtjsEC/&vmsFeed=FCT_FJTDVpVT&autoPlay=true"/' width='512′ height='337′ quality='best' wmode='transparent' scale='default' flashvars=" allowfullscreen='false']