Ryan Cunningham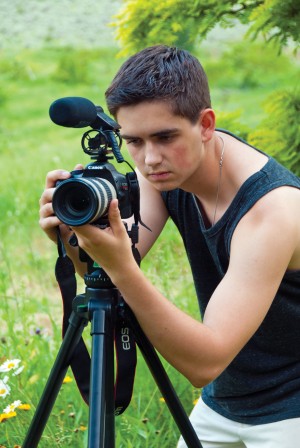 Clarence Fulton Secondary
Vernon
2013 Grad
Future documentary filmmaker
Teachers sometimes call him The Stacker. In 2011 he placed 11th in his age group as a member of Team Canada in the world Sport Cup Stacking championships. This Toastmaster's grad would love to have dinner with Michael More. Find out why.
Quintessential career: editor. Something in the film industry. Recently hired by the Canada Space Agency to produce a film on Bruce Aikenhead, former director-general of the Canadian Astronaut Program.
Favourite subject: psychology. Makes you think about things differently.
Independence: worked at Vernon Golf and Country Club. Will study social sciences and humanities at UVic in September, first year in residence, then off campus, and finally North Vancouver's Capilano Film School.
Helping out: school leadership president. Five weeks volunteering in Nicaragua. Instructive to witness the difference between their lives and ours.
Fitness find: community league baseball. Crossfit. Silver Star downhill skier, Canadian Ski Instructors Alliance Level I.
Must have technology: computer, phone, still and video camera. Impossible to choose.
Social media: Facebook to communicate with friends. Have Snapchat and Instagram, but don't use much.
eReader or print: for school study, hard copy. For camera instructions, YouTube videos. No time for leisure reading.
Creative outlet: video composition and editing with Adobe After Affects.
Lasting life lesson: be happy with what you are doing. Kudos to Earthquest Program teachers Barry and Moe Reid.
Movies or documentaries, TV or online: fave documentaries Fahrenheit 9/11 and Food, Inc. Love to discuss these with MM (Michael More). Movie go to, Ironman. Love the action.
Greatest extravagance: cameras. You can get carried away.
Favourite spot in the world: New Zealand. Lived there for 2001. Relaxing lifestyle, genuine people.