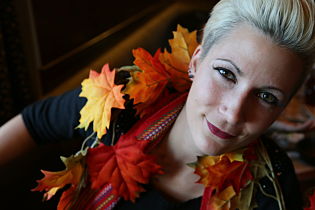 From the sugar shacks of Quebec to a warm Kelowna kitchen, dining on maple syrup is about as French Canadian as you can get. The tree that gives us the golden nectar and also lends its leaves to our flag is the star of an annual arts and culture festival put on by the Centre culturel francophone de l'Okanagan (CCFO). It's the kind of festival that invites families to shake off the winter blues and tap into their joie de vivre.
MapleFest has been running in Kelowna for 35 years. For the CCFO it's as an invitation to celebrate our Canadian heritage. Christine Cloutier is a member of the centre and has helped with the festival for many years. She says it's a great way to get out and enjoy some fantastic French Canadian hospitality. "It's a very unique mix of indoor and outdoor activities, it's really exciting to create the awareness of the culture we have." A time where we can dine on French food, enjoy French arts and culture and rub les coudes with local Francophiles who want to spread the camaraderie.
For the first time in five years, Jann Arden will be back in the Okanagan to perform at the Kelowna Community Theatre at 8pm on Mar 29.  As part of the Kelowna MapleFest, Jann Arden will be performing her greatest hits and some of her new songs during an intimate concert. Following the Concert, the party continues at the Community Theatre Black Box to the sounds of DJ Eric Lenger, a music filled night promising an energetic crowd.

Tickets for the concert can be purchased at www.smartticket.ca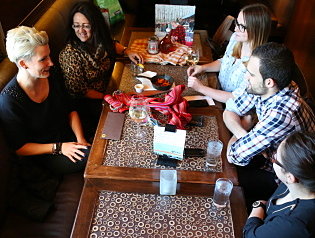 Kelowna MapleFest Committee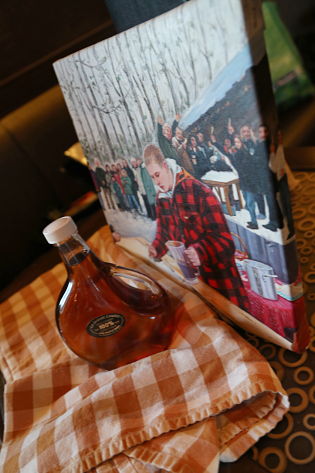 A painting by Henri Brazeau and the staple food of the festival: maple syrup.
Christine Boisseau (top photo) is on the organizing committee. She moved here from Quebec last year and was happy to find such an active French community. MapleFest promises to give her an even bigger taste of home. Quebec is the largest supplier of maple syrup in the world, and Christine says whether it's about collecting the maple sap, boiling it into syrup in the sugar shacks, or eating it poured hot onto a pile of snow, maple syrup in its many forms is a staple of Quebec life. "In Quebec everyone knows someone with a sugar shack, it's part of how we grow up, you go in the woods with a big draft horse and you tap the trees and make maple taffy, it's huge. For me to move here and find this French community, it's been awesome, just the fact we share a language, and I can come here and be with people who understand and share my roots."
The centre does a lot more than just put on extremely fun and sticky festivals. They also offer all sorts of events and opportunities for people in the Valley to be enriched "en français" throughout the year. They have a French social night every other week, story times for kids, guest speakers and classes with varying themes and they also develop outreach programs such as web videos targeted at seniors and those living in the outlying areas who may not be able to make it in to the centre but want to feel connected.
This year MapleFest will take place during the last weekend in March. Guests will get to enjoy everything from authentic French Canadian pea soup and poutine to maple syrup cotton candy. There will be local musicians and artists and a headline performance by Jann Arden at the Kelowna Community Theatre on the Saturday night (March 29), followed by a maple themed brunch the next morning.
For me, it's not just about what I'll get to eat and do at the festival that's exciting, it's about being around such a large group of friendly Francophones. The way they express themselves with disarming conviction, how they're so good at being cocky and humble at the same time, and how they always seem to know a good side-story or a witty saying or something that will simply make you laugh and add some energy and life to the conversation.
We have eight French immersion schools in the area, which can barely accommodate the number of families that want to get in. We have a growing population of those who speak French as a first language, those who want to teach it to their children, and those from Quebec who migrate through town each year to add their skills to the workforce. Our French connection began back with the first settlers in the area, and their lineage still marks the names of our streets, Bernard, Lequime, and Pandosy among them.
Last year the city commissioned local artist Henri Brazeau to paint six new murals on the side of the CCFO building, which is downtown on the corner of Richter and Bernard. The murals depict a contemporary and historical view of the Francophone experience. They are symbolic of the pride our entire community takes in honouring and celebrating our different cultures.
Having a strong French community allows us to more deeply understand the history of our country and what it means to be Canadian. Having a huge party with MapleFest this month, well that's the syrup icing on the pancake. Details at www.kelownamaplefest.ca