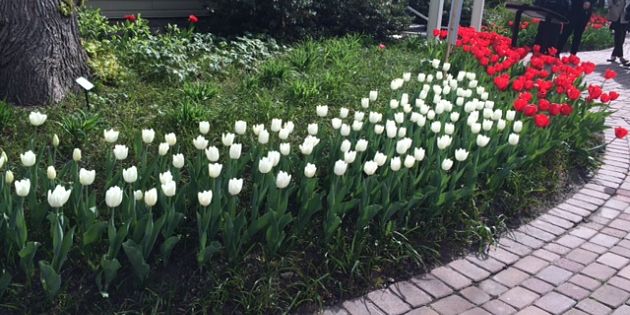 Kelowna residents visited Guisachan Heritage Park Tuesday morning for a celebration and garden viewing to mark the 70th anniversary of the first bloom of the Dutch tulips gifted to Canada after the Second World War. The Dutch tulips were provided as a symbol of appreciation and acknowledgement of the sacrifice and major role that was played by the Canadian troops in the liberation of the Netherlands.
Guisachan Heritage Park was selected as one of 15 locations in British Columbia, and one of 140 across Canada, to receive a Friendship Tulip Garden from the Canadian Garden Council. The 700 red and white bulbs were planted in the Fall of 2015 and it is now time to celebrate the bloom, in honour of the 70th Anniversary of the Dutch-Canadian Friendship Tulip Garden.
The recent warm weather has meant an early spring bloom of the special tulips. You can see them for yourself by visiting Guisachan Heritage Park at 1060 Cameron Avenue in Kelowna. Visitors can stroll through the gardens daily from 6 a.m. to 11 p.m.