This weekend, August 12-15, Sun Peaks Resort plays host to the 7th annual Retro Concert Weekend. This free event features the legendary sounds of classic rock, performed by a collection of the best tribute bands from across the province.
This year`s lineup includes tribute bands playing the classics from The Rolling Stones, Aerosmith, Johnny Cash, Bob Seger, John Fogerty, Heart and Pat Benatar.
Connie Williamson, Events Manager for Tourism Sun Peaks, expressed her excitement for the annual concert weekend, "This event has become a fan-favourite of residents and guests alike. As one of our premier, free concert weekends, it has steadily been growing in popularity over the past 6 years, and is showing no signs of slowing down."
The free, live outdoor performances will take place on a stage positioned parallel to the carpet lift near the base of the Sundance Express Chairlift.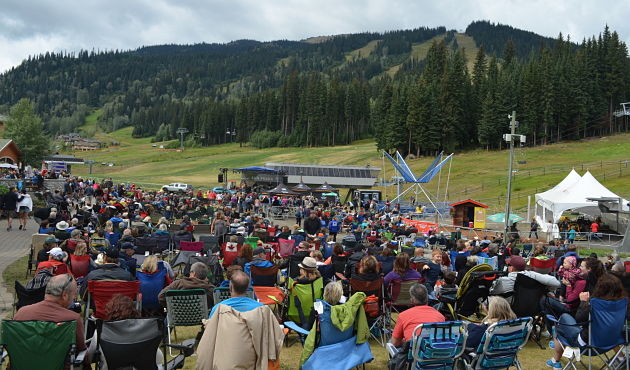 Schedule of events:
Friday
7:00pm - Johnny Cash performed by Big River
Saturday
12:00pm - Pat Benatar performed by All Fired Up
2:00pm - Heart performed by Barracuda
4:30pm - The Rolling Stones performed by Steelwheels
7:00pm - Aerosmith performed by Aerosmith Rocks
Sunday
11:00am - John Fogerty & Bob Seger performed by American Rock Legends
Sun Peaks is a four season resort community located in the interior of British Columbia. With the addition of two, new alpine ski zones for the 2014-15 winter season, it now ranks as the second largest ski area in Canada. In other seasons, Sun Peaks offers a diverse range of leisure activities including 18 holes of golf on B.C.'s highest golf course, both downhill and cross country mountain biking, lift accessed alpine hiking as well as numerous concert events and festivals. Sun Peaks can be accessed by two airport gateways - Kamloops (45 minutes) and Kelowna (2.5 hours) and also by car; only a four hour drive separates Sun Peaks and Vancouver, B.C.
---