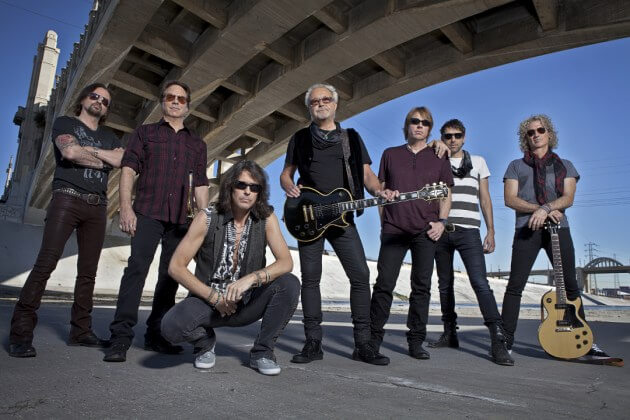 "I Want To Know What Love Is." "Cold As Ice." "Hot Blooded." "Juke Box Hero."
Foreigner, the band behind these and other classic and iconic songs, is turning 40 this year and celebrating with a Canadian tour, 40th Anniversary Album, and new musical; Juke Box Hero. Foreigner will make a stop in Penticton with guests Honeymoon Suite at the South Okanagan Events Centre on Saturday, October 21.
"I never could have imagined when I set out to create Foreigner forty years ago, that we'd still be touring around the world and performing the music we love all these years later," says founding member and lead guitarist Mick Jones. "I am so proud that these songs will now be reinterpreted for stage, and am honoured by the team that is helping bring this music to life. I can't express the gratitude I feel when fans share stories of how our songs have been woven into their milestones and memories over the years."
Foreigner's 10-city Canadian tour is set to launch in Calgary, AB on October 11, and trek across Western Canada as the band - Mick Jones (lead guitar), Kelly Hansen (lead vocals), Jeff Pilson (bass, vocals), Tom Gimbel (rhythm guitar, sax, vocals), Michael Bluestein (keyboards), Bruce Watson (guitar) and Chris Frazier (drums) – bring Foreigner's arsenal of hits to Canada.
This tour will feature a companion album, a new career-spanning compilation titled 40 that features 40 hits from 40 years.  40 brings together the best songs from Foreigner's nine studio albums, including all 16 of its Top 30 hits: "Feels Like The First Time," "Urgent," "Waiting For A Girl Like You" and more. The collection features "Too Late" from the group's 2008 retrospective No End In Sight and "The Flame Still Burns," the title track from a vinyl EP released just last year, making its debut on CD in this collection.
Another milestone as part of Foreigner's 40th Anniversary celebration is the announcement of the forthcoming musical, Juke Box Hero, premiering in Alberta in 2018. Based on the screenplay written by the prolific writing duo, Dick Clement and Ian La Frenais, responsible for films The Commitments and Across The Universe, and The Tracey Ullman TV Show, Juke Box Hero is a coming of age saga written to the music of Foreigner.
Tickets for Foreigner with Honeymoon Suite at the South Okanagan Events Centre are $45, $65, $75 and $89.50. Purchased in-person at the Valley First Box Office at the SOEC, via phone 1.877.SOEC.TIX (763.2849) or online at ValleyFirstTIX.com.
Photo: Bill Bernstein